Preemo Ranked Among The Top 50 Fastest Growing Companies In Miami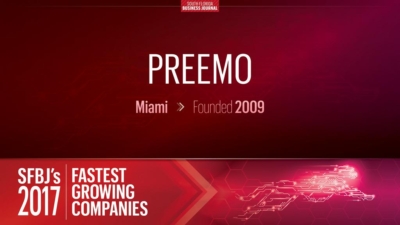 Press Release (ePRNews.com) - MIAMI - Aug 23, 2017 - Preemo, a award-winning Managed IT Services Company that supports the technology needs of businesses in Miami drawing on their 10-200 employees, this week received an honorable distinction from the South Florida Business Journal. Officially ranked among the Top 50 Fastest Growing Companies in Miami, Preemo claimed the #21 spot on the reputable list of IT contenders.
Passionate about delivering fanatical IT support to businesses of every size and variety today, Preemo's proactive approach to managing IT equips their clients to have high availability of their technological assets, thereby enabling them to focus on growing their business.
"Thanks to our team of certified experts, we have the flexibility to serve a variety of industries, as well as support a wide range of technology products," said Ivan Mladenovic, Founder and Owner of Preemo. "Our corporate culture is one of active learning, creative collaboration, and is solution-driven. Since we work year-round to uphold these business principles, we are incredibly grateful for the distinction bestowed by the South Florida Business Journal this week."
Preemo clinched the number 21 spot in the category of companies with under $25 million in revenue.
As an award winning IT service and support entity today, Preemo's services range from Server and Network Management, to Network Security and Email Management. Their team is comprised of 16 engineers who are available 24-7 and span a variety of industries, including Legal, Financial Services, Investment, Medical, Real Estate, and Manufacturing.
To date, Preemo has been named the number one IT Consulting and Cloud Solutions firm by the Daily Business Review for three consecutive years.
"Our firm covers a lot of ground today, including a variety of Cloud Solutions, Server Management, Virtualization, Network Management, Backup & Business Continuity, Security Consulting, and the list goes on," said Mladenovic. "We want to thank the South Florida Business Journal for recognizing our achievements and steadfast dedication to our clients, and we look forward to many more years in the IT industry."
Also in the same category released by the South Florida Business Journal, Mladenovic's father and his company, M2E Consulting Engineers, was recognized for his contributions and income as a CEO.
The winning companies for this year's list of 50 were announced at Jungle Island in Miami.
For more information, or to learn more about Preemo's services and IT support Miami today, visit: https://preemo.com/.
Source :
Preemo IT Support