"Princess of Darkness: Bloodlines" – Necking Takes on a Whole New Meaning in a Vampire Love Story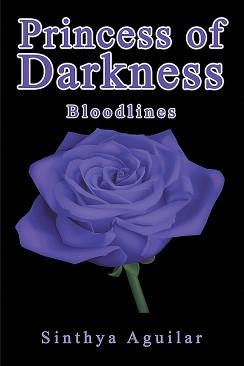 Press Release (ePRNews.com) - LOS ANGELES - May 09, 2017 - This hot new paranormal novel features Victoria, a young woman searching for her true identity. As a child, she grew up in foster care knowing that she was different from all the other children, but never knew how different. Blood will tell!
After enduring many years of abuse in the foster system, Victoria runs away to discover who she really is. Her foster brother Ray helps her explore the amazing talents she previously kept hidden. When Victoria encounters a coven of vampires led by Vincent, he asks for her help in defeating an evil vampire set on destroying Vincent's coven.
Victoria is convinced to join the fight by Syrus, Vincent's right hand man. Despite the danger, she and Syrus fall in love as they battle not only the evil vampire, but some wicked witches. Victoria's adventures bring her full circle as she discovers her real self: The Princess of Darkness.
About the Author: First-time author Sinthya Aguilar began writing Princess of Darkness as a short story, but it evolved into the first book of a series. She lives in the Los Angeles area, works at a theme park, and is always listening to music.
"This exciting love story definitely has some strange twists. We are thrilled to present this new author and her take on a vampire saga," said Robert Fletcher, CEO of Strategic Book Publishing and Rights Agency.
PRINCESS OF DARKNESS: BLOODLINES (ISBN: 978-1-61897-641-3) is now available for $17.50 and can be ordered through the publisher's website:
http://sbprabooks.com/SinthyaAguilaror at www.amazon.com or www.barnesandnoble.com.
WHOLESALERS: This book is distributed by Ingram Books and other wholesale distributors. Contact your representative with the ISBN for purchase. Wholesale purchase for retailers, universities, libraries, and other organizations is also available through the publisher; please email bookorder@sbpra.net.
Strategic Book Publishing and Rights Co, LLC
www.SBPRA.net (http://www.strategicbookclub.com/) www.AuthorMarketingIdeas.com www.PublishOnDemandGlobal.com
*About our book publishing, marketing, and distribution team … We have provided services to over 10,000 authors around the world in the last eight years. We have hybrid-published over 6,500 authors, (about 500+ in a "traditional style" contract and the remainder in a self-publishing style), and their books are for sale in all the normal Ingram distribution channels, and Amazon and B&N (US, UK, Australia, Europe), plus China, India, Malaysia and almost every country in the world. We have attended and exhibited at over 30 of the largest book fairs in the world including London, New York, Beijing, Frankfurt, Guadalajara, New Delhi, Taiwan, and more. We have been instrumental in the adoption of POD in mainland China and Korea. For our author-clients we have produced over 1,000 press releases, video book trailers and other marketing materials for authors around the world. We have created over 7,500 author websites with extended capabilities, we have over 1,200 multi-format eBooks available on Kindle, Apple, Kobo, and other eBook platforms around the world. We look forward to assisting you to the best of our ability.
https://www.facebook.com/sbpra.us
http://pinterest.com/sbpra/
https://twitter.com/SBPRA
https://www.linkedin.com/company/sbpra
Source :
Strategic Book Publishing and Rights Co, LLC