Procurify Now Supports Amazon Business Integration in Canada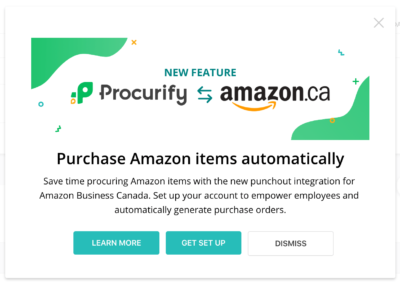 Press Release (ePRNews.com) - VANCOUVER, British Columbia - Dec 06, 2019 - Following along with Procurify's campaign to make business spending smart and simple, the company announced Thursday that they are now supporting Canadian domains for their Amazon Business integration. 
Amazon Business is now supported in Canada, meaning that Canadian customers have the opportunity to directly integrate their Procurify instance with their Amazon purchasing via Procurify's PunchOut feature. This new punchout integration will mimic the existing experience in Procurify that already exists for the US, UK, and DE among others. 
Users simply browse and add items to a Request for Order. Once these orders are Approved, the items will be purchased and shipped by Amazon, with no additional Procurement steps.
 
Business-ready Purchase Orders are created instantaneously, eliminating the need for manual entry, and making the process easy and worry-free.
About Procurify — Smart and Simple Business Spending
Procurify is the go-to spend management solution for midsize companies that want convenient spend controls, a convenient purchasing process and democratized access to spending data.
Media Contact:
Vikash Dass
Phone: 1-888-463-5254
Email: vikash@procurify.com
Source :
Procurify