Rajan Gardens Serves as the Best Wedding Venue in Chennai
Rajan Gardens is known to offer the best and most striking landscapes for people to celebrate their personal and corporate events in style in the city of Chennai.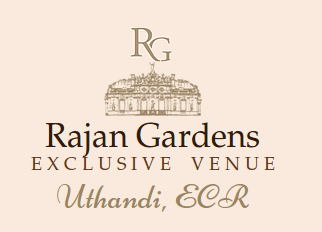 Press Release (ePRNews.com) - Uthandi, ECR, Chennai - Jan 05, 2018 - Finding the right venue to celebrate a special occasion or a corporate event, for that matter, is one of the most difficult things to do. People often struggle to find a place that could actually add more to the overall celebration of the event and thus, make it even more special and memorable. However, people in Chennai do not face this problem, as Rajan Gardens comes to their rescue. The venue provider enables couples, families and corporate houses to celebrate special occasions in style and the grandest ways possible.
With the intent to provide an insight into venue services, one of the senior executives working with Rajan Gardens stated, "We let customers to book any of the AC Kalyan Mandapams in Chennai – Rajan Gardens. By doing so, we enable guests to get flawless memories for the rest of their lives. Not surprisingly, we are known for providing the best venues to suit the occasion-specific needs of individuals, families, couples and corporate houses in the best ways possible."
Customers can always choose the space as per their occasion/event requirements and Rajan Gardens ensures the event is memorable. Whether customers want to book mini halls for small gatherings, pre or post-wedding ceremony, budget party halls for a corporate event or an open garden space for organising a large-scale wedding reception in Chennai, Rajan Gardens offers options aplenty for customers to choose from. What makes the company stand tall and remain popular among customers is the fact that it strives hard with the best of resources and in all ways possible to ensure customers get value for the money that they spend.
The senior executive further stated, "We offer the most breathtaking, suitable and amazing landscape to celebrate any and almost every type of personal and corporate event in a hassle-free manner and to the maximum possible enjoyment. It has been a matter of pride for us that we have so far been successful in helping innumerable customers to celebrate big days and events in a way that they remain alive in memories for the rest of their life. Hence making an event amazing, ecstatic, grand and special has never been as easy as it gets with us."
The indoor spaces that Rajan Gardens offers for booking are classy and spacious enough to hold medium-sized gatherings, thus making them simply the best for Chennai Monsoon time. Together with ultra-manicured lawns, the venue providing company creates a great backdrop for all the photo sessions besides serving as a delight in the cool and breezy months of Chennai. Therefore, those who are looking for the best AC marriage halls in Chennai with costs, or for that matter wedding venue in ECR, can count on Rajan Gardens.
About Rajan Gardens
Chennai, India-based Rajan Gardens leads from the front as an iconic venue provider. The company helps people and corporate houses to celebrate big or small events in the most efficient and effective ways possible. For helping people and corporate houses to make special occasions in their lives even more special and memorable, the venue provider is often held in high esteem. No matter customers are looking for the outdoor venues or indoor ones, Rajan Gardens offers all with a difference. Hence, those looking for the best reception halls in Chennai can count on Rajan Gardens.
Contact Details:   
Rajan Gardens
Dr. B.P. Rajan Road, Uthandi, ECR, Chennai
Tel: 955 133 6335
Email: contact@rajangardens.com
Web: https://www.chennaiweddingvenue.com/
# # #
Source :
Rajan Gardens