Real Estate Developer Show People How to Take Control of Rebuilding Communities with Obama Jobs Act
Real Estate Developer Show People How to Take Control of Rebuilding Communities with the Tulsa Real Estate Fund, a Tier 2 government regulated crowd fund to kick off the commemoration of the Tulsa Race Riots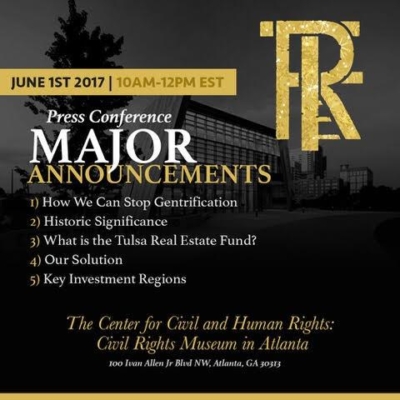 Press Release (ePRNews.com) - ATLANTA - May 18, 2017 - The Tulsa Real Estate Fund (TREF) (http://www.tulsarealestatefund.com/)is a regulation A-Tier 2 real estate crowd fund. TREF allows both accredited and non-accredited investors to collectively invest and own real estate projects that are unique, diversified and yield a reasonable rate of return.
Project Rebuild: Putting People Back to Work Rehabilitating Homes, Businesses and Communities. President Obama proposed $15 billion to invest in a national effort to put construction workers on the job rehabilitating and refurbishing hundreds of thousands of vacant and foreclosed homes and businesses. Building on proven approaches to stabilizing neighborhoods with high concentrations of foreclosures, Project Rebuild brings in expertise and capital from the private sector, focus on commercial and residential property improvements, and expand innovative property solutions like land banks. This approach not only creates construction jobs but will help reduce blight and crime and stabilize housing prices in areas hardest hit by the housing crisis.
The purpose of this news conference is to alert the press and public to the economic opportunity available to re-invest and stabilize communities affected or will be affected by gentrification. The press conference will include the statistical and solutions to the public as it relates to the investment opportunity as well as the personal perspectives of investors.
The Tulsa Real Estate Fund (http://www.tulsarealestatefund.com/) is the economic vehicle for the urban community to collectively pool our dollars to effectively control and revitalize our neighborhoods.
Urban neighborhoods across the nation do not have control of our dollars, our real estate and small business, and it is hard to find funding for real estate redevelopment within our community. As a result, across the country urban neighborhoods are being developed by individuals who do have the best interests of the community in mind. This leads to the displacement of longtime residents of the neighborhood otherwise known as gentrification. It also destroys community culture by increasing property values for residents, thus making the cost of housing in our community unaffordable. The Tulsa Real Estate Fund is the solution to this problem.
Tulsa Real Estate Fund is a government regulated $50 million dollar fund that finances urban redevelopment around the world, but primarily in the United States.
This 21 st Century crowdfunding vehicle, allows members of the community, institutions and advocacy groups to own an equity stake in redevelopment projects funded by Tulsa Real Estate Fund. We call this "Participation Pass Donation." Every investor will have an equity interest in every project that they invest in, which enables us to take control of our community, circulate our dollars within, take pride in our neighborhoods and unite around our common goals. We invite the public and media to attend our press conference.
DATE: Thursday, June 1st
TIME: 10:00 a.m.
PLACE: The Center for Civil & Human Rights | 100 Ivan Allen Jr. Boulevard,
Atlanta, GA 30313
PARTICIPANTS:
Jay Morrison – Real Estate Developer, TV Personality, Author, Activist & Founder of the Jay Morrison Academy
Roddy White – Former Atlanta Falcons Wide Receiver and Founder of the Keep The Faith Foundation
Special invited guests: David Banner, Tamika Mallory, Will Packer,
DC Young Fly
MODERATOR:
Ernestine Johnson, Actress & Activist, Tulsa Real Estate Fund
PRESS INQUIRIES:
Tamika Morrison, T.MORRISON AGENCY
publicity@tmorrisonpr.com | 404-908-0500
▪ Source: Obama White House Archives
Source :
Jay Morrison Academy