Recycled Polyester Yarn
According to incomplete statistics, in 2019, the global output of recycled polyester fiber rPET was about 6.4 million tons, and China alone produced 5.1 million tons, accounting for about 80%!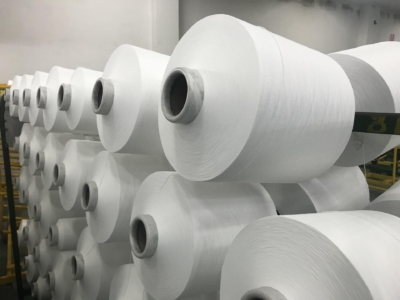 Press Release (ePRNews.com) - Dongguan, Guangdong - Aug 31, 2022 -
Development of Recycled Polyester Yarn Industry
One day in 1980, the headquarters of Eastman Company in the United States suddenly burst into cheers – they successfully developed a process method for methanol depolymerization to recover virgin polyester fiber PET. This means that the recycling technology of virgin polyester PET waste has achieved a leap from physical to chemical decomposition. It has always been regarded as a high-end brand representative.
In 1993, Patagonia launched the first outdoor sportswear made of recycled polyester fiber, which was very popular, and its debut was the peak.
According to incomplete statistics, in 2019, the global output of recycled polyester fiber rPET was about 6.4 million tons, and China alone produced 5.1 million tons, accounting for about 80%!
Advantages of recycled polyester yarn
100% of the PET raw materials used in recycled polyester yarn products come from recycled PET bottles, which protects the environment, and the production of raw materials uses the most advanced technology in Asia, thus achieving no pollution.
Of course, there are also different voices. For example, garments made from recycled polyester are believed to have poor breathability. As a result, major manufacturers are forced to work hard and work harder, and hum hum chi has made fibers that are more comfortable to wear and more ideal for moisture absorption and perspiration.
Recycled polyester fiber rPET replaces the existing polyester fiber, in addition to the environmental protection characteristics, it must also have a sufficient and necessary condition – that is, the quality must be excellent. Only when the quality is passed, can it be recognized by the market.
In Salud Style' polyester yarn factory, we adopt a highly automated production line. The whole process has the characteristics of closed production, continuous flow operation, automatic control, clean production and harmless treatment, which can truly realize closed-loop feedback type recycling. Utilization, recycling mode, cleaning water, etc. can be reused and infinitely cycled, truly achieving "green recycling, green production".
Recycled polyester staple fiber
Regenerated polyester staple fiber, the length is generally 32 to 102mm, and the fineness has many specifications from 1.5D to 20D. It belongs to the full use of renewable resources. It has a broad market because of its low cost and good performance.
There are many different varieties of recycled polyester staple fibers: such as ordinary fibers, hollow fibers, triangular fibers, flame-retardant fibers, etc., which are now generally used in the filling material industry of furniture and toys, bedding, clothing industry, cotton industry, and stitched fabric industry.
Due to its own characteristics, recycled polyester is easily damaged in the process of carding, resulting in an increase in short piles. It is easy to cause yarn defects to increase during the production process.
Therefore, the cleaning process adopts the process principle of \"more carding and less beating, and carding instead of beating\", and at the same time, it is necessary to ensure the smoothness of the cotton passage, avoid hanging flowers, and prevent the production of ropes and neps; the carding process adopts a larger distance. , low tooth density card clothing and lower speed, to reduce fiber damage.
The principle of "heavy pressure, large gauge, and appropriate increase of draft ratio in the rear area" in the drawing process is conducive to strengthening finishing, obtaining better straightness, parallelism, and reducing neps as much as possible. Short piles can reduce occasional yarn defects; roving adopts larger twist coefficient and small tension to increase the tightness of the sliver; the spinning process should strengthen the control of floating fibers to improve yarn quality; the winding process uses low speed, Appropriate tension and other measures; strengthen the management of temperature and humidity in each process to prevent fluctuations in product quality due to inappropriate temperature and humidity.
Recycled polyester reshapes the industry landscape
Some people may ask, can clothes made of recycled polyester rPET fabrics be as comfortable as virgin polyester PET?
The answer is almost no difference.
In recent years, with the development of craftsmanship, recycled polyester has been close to virgin polyester in terms of hand feel and wearing experience, and many times the difference cannot be distinguished. When the market demand for such products reaches a certain scale, new breakthroughs will be ushered in!
PUMA sailing team special suit, HUGO BOSS thermal vest, TIMBERLAND moisture-absorbing and quick-drying jacket are all successful cases!
Compared to virgin polyester, recycled polyester consumes less hydropower and lowers carbon emissions. It is one of the ideal substitutes for building a circular economy.
Over time, excessive carbon emissions may become a problem that many factories in the packaging, plastics and textile industries have to face in the future.