Remodel your Kitchen for an Aesthetic Appeal with AMR Granite in London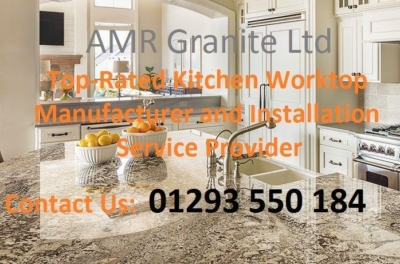 Press Release (ePRNews.com) - LONDON, British IOT - Mar 16, 2017 - Nothing compares to the design and finish of these two selected stones. AMR Granite brings to you the finest variety of granite and quartz worktops that would last a lifetime.
Have you been thinking of kitchen remodelling lately? AMR Granite gives you every reason to celebrate with their cost-effective and unbelievable variety of quartz worktops London.
Quartz is an excellent variety of composite stone. It is artificially produced using a technique to mix the hardest materials of nature together with pigments and high-grade polyester resins. As a result, quartz has a beautiful and appealing composite surface, which makes it increasingly desirable and popular. The official sales person of AMR Granite stated that, "Quartz worktops London are our featured product variety. We have the most skilled stonemasons and artistic craftsmen to create quartz worktops of the highest quality. Our features quartz products are stain resistant, scratch proof, and easy to maintain." At present, the company has the most incredible variety of quartzz countertops at its stone showroom in Sussex which includes colourful pieces. Rosse Stelline, Soave Madreperla, Monna Mystico, Nero Ebano, Grigio Venato, Creme Venato, Creme Sasso and Creme Stelline are just a few names of quartz worktops.
Granite, on the other hand, is a variety of igneous rock that forms over millions of years deep into the core of the earth. It is ideal for worktops and countertops in kitchen. Granite is incredibly durable, stain and water resistant, and heat proof. Thus, granite remains a popular choice for granite worktops London. "We are proud to present highly durable and the best quality of granite to our clients in London. We have introduced a wide and impressive range of granite worktops in unique colours, textures and finish – something that you would not find everywhere," said the sales manager of AMR Granite.
Apart from stone manufacturing, AMR Granite is also involved in installation and maintenance of your quartz worktops in London. Using the most advanced technologies, AMR Granite has successfully delivered high-quality worktop installation services in London. Moreover, the company also takes a step-by-step approach to make sure that customers can choose the right quartz or granite worktops and even get them installed. As the official spokesperson said, "We have a team of experts to investigate into the matter prior to installation. We ensure that every nook and corner of the kitchen is checked properly based on which we offer advice to homeowners. We consider the kitchen size, preferences, wall colours, and budget before quoting".
For more information, visit www.amrgranite.co.uk
About AMR Granite
AMR Granite has a kitchen showroom in Crawley, Sussex. The company manufactures the best granite, quartz and other natural stone products for various household purposes.
Source :
amrgranite.co.uk