Ryteprint Business Solutions Limited Supplies Custom-Designed Paper Bags and Rollup Banners
Ryteprint Business Solutions Limited is offering custom design and printing solutions in Nigeria, ranging from the printing of branded bags of paper to rollup banners for portable display.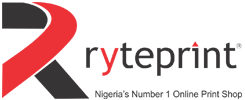 Press Release (ePRNews.com) - Nigeria - Aug 24, 2019 - Ryteprint Business Solutions Limited is a provider of customized business printing solutions, as well as printed marketing materials, clothing, signage, photos, and digital art products. The service provider offers high-quality digital prints developed using the latest digital printing equipment. Ryteprint follows the top industry standards for digital quality. Additionally, the service provider has the high-capacity litho press with quality monitor to ensure that every single sheet is checked for color consistency. With the largest printed products offering, Ryteprint has become the biggest online print shop in Nigeria and West Africa.
At a latest media conference, the spokesperson of Ryteprint Business Solutions Limited revealed, "We offer on-demand customization solutions to individuals, small offices and home offices, small and medium enterprises, and corporate firms respectively. Through our innovative, transparent and technology-driven online platform, we give our clients the power to simplify their print ordering process. With more than 15 years of industry experience, we provide efficient and convenient web to print solutions. For each of our clients, we have unique offerings that make our total customer experience second to none."
Ryteprint custom designs and prints a wide variety of products, including business cards and stationery, photo mugs, thank you notes, signature frames, apparel, posters, calendars, greeting cards, and party and wedding photo books, invites and notification letters. The service provider also undertakes the custom printing of various portable display products, such as rollup banners in different sizes. Customers can choose from the standard and express delivery, as well as the quantity of designed and printed rollup banners.
The spokesperson also informed, "We have started printing rollup banners that are ideal for retail signage, conferences, exhibitions, promotional events, and meetings. The users can simply pop it out of their carry case, extend the pole, and pull up the graphics. Our rollup banners are finished and sealed carefully and delivered in perfect condition to our customers. We also provide a large number of online design templates as choices to our customers. If they want, they can hire one of our creative designers to come up with a unique design for them."
For rollup banners, Ryteprint does the full color printing on PVC material, and the printed material is mounted on a stand. The graphic size is usually 85 cm x 215 cm. While the service provider prints the best roll up banner , it also custom designs and prints a variety of paper bag. Along with branded bags in varied sizes, customers can get brown food paper bags in the desired quantities. Ryteprint supplies cost-effective printed products for which its customers can also offer their own designs.
About the Company
Ryteprint Business Solutions Limited is one of the popular custom printing companies in Nigeria. The service provider offers tailor-made designs to be printed on a variety of products that majorly include business marketing materials and stationery. The digitally printed product range of Ryteprint goes from brochures and leaflets to flyers, presentation folders, booklets, paper stickers, gift certificates, and bookmarks and product tags. The service provider offers both black-and-white and color printing solutions.
Contact Information:
Ryteprint Business Solutions Limited
Tudor House, 70 Shipeolu Street,
Off Ikorodu Road, Palmgrove,
Somolu 100231, Lagos, Nigeria
Phone: 07019109598 | 0700 7983 77468
Email: info@ryteprint.com
Website: https://www.ryteprint.com/
Source :
Ryteprint Business Solutions Limited