Ryteprint Business Solutions Limited Offering Design-Print Solutions for Business Cards
Ryteprint Business Solutions Limited is providing high-quality, impactful business card design and printing solutions while presenting a full range of business card options to choose from.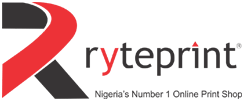 Press Release (ePRNews.com) - Nigeria - Aug 24, 2019 - Ryteprint Business Solutions Limited is Nigeria's leading online print shop that provides on-demand and customized business printing solutions. The service provider offers printed marketing materials, clothing, signage, photo and digital art products. Ryteprint focuses on giving the individuals, small offices home offices (SOHOs), small and medium enterprises (SMEs) and corporate organizations the power to simplify their print ordering process using its innovative, transparent and technology-driven platform. The service provider has more than 15 years of industry experience that it displays by providing efficient and convenient online print solutions.
While attending an industry event, the spokesperson of Ryteprint Business Solutions Limited informed, "We currently have the largest product offering in the online printing industry, making us the one-stop shop for availing a wide range of print products in Nigeria and West Africa. Our design studio has thousands of design templates to choose from, while our creative designers are also available to create a unique design. We offer cost-effective and quick solutions to the specific print needs of each of our clients."
Ryteprint undertakes high-quality digital printing on the latest digital printing equipment. The service provider has a high-capacity litho press with a quality monitor to ensure that every single sheet is checked for colour consistency. Ryteprint also provides a unique service, called RyteStudio, on its online platform. The service lets the users buy art printed on various products, such as notebooks, life planners, calendars, wire o notebooks, postcards, greeting cards, mugs, framed photo prints, metallic prints, canvas prints, wall art, customized tees and more.
The spokesperson also shared, "Along with the printing of marketing materials like booklets, brochures, product tags and presentation folders, we design and print regular and premium business cards. Our clients can choose from varied types of business cards, including Standard, Ryte Bold, Square, Premium Finish, Rytefinity, and Skinny. We print these cards for business and personal use and for exchanging contact information. We offer several business card designs, but our clients can also choose to upload their own design when they place an order."
Businesses that are not aware of where to print business cards in Lagos can now easily order business cards online with Ryteprint. The service provider delivers to Lagos, Abuja, Port Harcourt and nationwide to all 36 states. Business cards are low-cost marketing materials with high visibility. They get seen almost every day. With Ryteprint, the companies or individuals can design their business cards with all the necessary details. They can use its online design tool to personalize their business card designs.
About Ryteprint Business Solutions Limited:  
Ryteprint Business Solutions Limited offers both, colour printing and black-and-white printing solutions online. The service provider designs and prints a wide variety of products, especially for business marketing purposes. The range of products goes from flyers and banners to apparel, wedding materials, and posters. Customers can even order online to buy paper bag with a custom design on it. Ryteprint uses the offset printing method that provides the highest quality of print material for both the text and the images.
Contact Information:
Ryteprint Business Solutions Limited
Tudor House, 70 Shipeolu Street,
Off Ikorodu Road, Palmgrove,
Somolu 100231, Lagos, Nigeria
Phone: 07019109598 | 0700 7983 77468
Email: info@ryteprint.com
Website: https://www.ryteprint.com/
Source :
Ryteprint Business Solutions Limited