Ryteprint is Offering Printing Solutions in Nigeria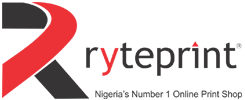 Press Release (ePRNews.com) - Nigeria - Mar 04, 2019 - Based out of Nigeria, Ryteprint is a best-in-class printing company that strives to provide high-end printing solutions for their extensive range of clients. Running operations through its online platform, the company specializes in the areas of business printing, marketing materials, signage, clothing as well as photo and digital art products. These products are designed to meet the needs of various clients which include small medium enterprises, corporate organizations, and small home offices, where one can expect to get customized solutions. Their innovation, transparency and technology-driven approach puts them ahead of the curve making them the right partner for any printing needs.
Talking about why one should go for their printing solutions, the Company Spokesperson said, "At Ryteprint, we focus on giving our clientele the best printing solutions, and this has allowed us to gain great market traction. Not only do we abide by the top-most standards of digital printing, but we also pride ourselves as it pertains to the provision of fast printing services which are available at highly affordable prices. Furthermore, we provide our clients with thousands of templates to choose from, making us as flexible as it can get. We also have a team of well-experienced designers who see to it that every order is fulfilled and that the results exceed the client's expectations. In essence, when you choose us, you're sure you're getting the best of the printing world."
One can now order business cards online, thanks to Ryteprint who've made it easy and accessible for anyone to print business cards of their choice. When it comes to business cards, the company offers a variety of options for one to choose from which include Standard, Premium Finish, Square, Ryte Bold, Rytefinity and Skinny Business Cards. Clients are free to choose from the range of designs the company offers or they can upload their personal designs which the company will use in fulfilling their order. The cards are realized from top-quality materials, and regardless of the design one chooses, they can be sure to get business cards that best fit their requirements.
Speaking further about their printing solutions, the Company Spokesperson added, "Our ability to deliver beyond client expectation has seen us become a force to reckon with in the Nigerian digital printing realm. Today, Ryteprint is associated with innovation, reliability, and quality which are key elements for any client looking to get unmatched printing solutions. To hit the nail on the head, we've made it so that one can have access to our printing solutions through our digital platform that allows clients to make an order from the comforts of their location. We ship our products nationwide and assure clients that their items will reach them in one piece."
Featuring as one of the top printing and design companies in Nigeria, Ryteprint has been one to never shy away from the provision of high-quality design and print solutions. Their market performance has seen them become a favorite among many and this has propelled their growth by the day. Their design and print solutions address the needs of the modern consumer, making them the go-to hub for such solutions in Nigeria.
About Ryteprint
Ryteprint is a well-established online printing company that focuses on providing a whole range of printing solutions to their clientele. The company is known to provide top-quality as it relates to their products and one can always be sure to get exceptional pricing from them.
Contact Details
Company Name: Ryteprint
Tudor House 70, Shipeolu Street Off Ikorodu Road
Palmgrove Lagos Nigeria
Tel: 0701910959
E-mail: sales@ryteprint.com
Email: info@ryteprint.com
Source :
Ryteprint