Saint Mary's School welcomes Brendan O'Shea as 14th Head of School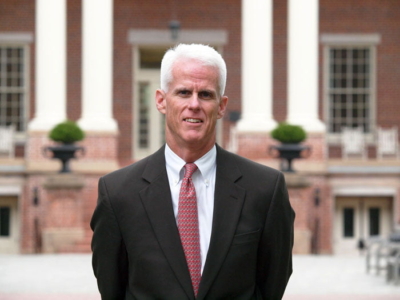 Press Release (ePRNews.com) - RALEIGH, N.C. - Aug 17, 2017 - Saint Mary's School kicks off its 176th year of educating girls with the opening of school on August 28, and a new head of school at the helm. Brendan J. O'Shea, Saint Mary's 14th head of school, began his tenure in July 2017.
"It is an honor and privilege to join the Saint Mary's School community as head of school," says O'Shea. "Saint Mary's is purposeful in providing a top-notch education while instilling important character traits in the girls it serves."
A native of Baltimore, O'Shea is a graduate of the Gilman School. He graduated from the University of Virginia, where he earned a B.S. in commerce from the McIntire School of Commerce and an M.Ed. in administration and supervision from the Curry School of Education.
O'Shea is a seasoned independent school educator and leader. He began his educational career at Woodberry Forest School, an all-boys' boarding school in Orange, Va. During his 16-year tenure at Woodberry Forest, O'Shea served in numerous senior administrative positions, including director of admission; assistant headmaster for admission, marketing, and financial aid; and assistant headmaster and dean of academic affairs. These positions involved O'Shea in virtually every area of school administration. He directed the school's daily operations and administered its academic program. He was responsible for hiring faculty members and managing the school's processes for faculty professional development and evaluation. O'Shea's roles also allowed him to work closely with the school's board of trustees to set policy, and to plan for the school's future. Throughout his tenure at Woodberry, O'Shea continued to work closely with students, parents, and faculty in each of his roles.
In 2004, O'Shea was appointed headmaster of Charleston Day School, a coed, K-8 school in Charleston, S.C. As headmaster, O'Shea designed and managed a successful capital campaign that resulted in the construction of the new Student Academic Center at Charleston Day School. He also led two successful accreditations for Charleston Day School and has served on numerous SAIS/SACS accreditation teams. Many members of the Charleston Day School community commented that O'Shea's leadership will always be distinguished by the culture of welcome, care, and civility that he fostered at the school.
"What is unique about Brendan is his intrinsic ability to make connections," says Saint Mary's Board Chair Gloria Taft Becker '92HS. "He has a natural ability to connect people and ideas. He is an innovator, an educator, and he holds a deep appreciation for single sex education. I look forward to the connections he undoubtedly will make here at Saint Mary's School—whether it is connecting our traditions with the innovative needs of a 21st century education, his personal connection with our girls, parents, faculty, staff, and alumnae, or building a stronger connection for our campus with the broader community, these are just some of the connections I am confident he will make that will benefit our culture and momentum of academic excellence."
About Saint Mary's School:
Saint Mary's School in Raleigh, N.C., is an independent, Episcopal, college-preparatory, boarding and day school dedicated to academic excellence and personal achievement for girls in grades 9-12. Founded in 1842, Saint Mary's is celebrating 175 years of excellence in educating women. http://www.sms.edu
-30-
Source :
Saint Mary's School

Business Info :
Saint Mary's School
900 Hillsborough Street Raleigh, NC 27603
Raleigh, North Carolina - 27603 United States
Phone: 919-424-4034
Website:
http://www.sms.edu