Sheikha Lubna congratulates Zayed University Students Accessibility Services Department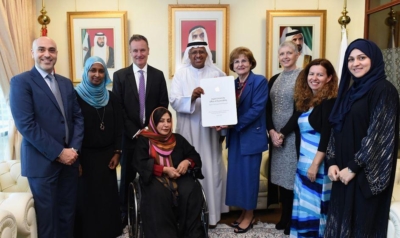 Press Release (ePRNews.com) - DUBAI, UAE - Feb 05, 2017 - Zayed University Students Accessibility Services Department was recognized as an Apple Distinguished Program for 2016-2018 in an awarding ceremony held recently at Zayed University in Dubai campus.
Her Excellency Sheikha Lubna Bint Khalid Al Qasimi, Minister of State for Tolerance and President of Zayed University, congratulated Zayed University Students Accessibility Services Department for earning the Apple Distinguished Program recognition, which is reserved for programs that meet criteria for innovation, leadership, and educational excellence.
Her Excellency affirmed the significance of supporting students with disabilities and ensuring that all of them regardless of their physical disability or other learning difficulties have access to high quality education and are able to successfully pursue a university-level degree and become fully productive and active members of the UAE community.
"It makes me happy and proud to see Zayed University embracing prominent centers equipped with the state-of-the-art educational tools such as, the Humaid Al Tayer's Assistive Technology Resource Center in Abu Dhabi campus and Khalaf Al Habtoor Assistive Technology Resource Center in Dubai Campus. We recall this generous and philanthropic initiative today in 2017, which the UAE wise leadership declared as the 'Year of Giving'," Her Excellency said.
Her Excellency also pointed out that both centers provide a wonderful opportunity for students with disabilities to learn and excel personally and professionally, and are committed to delivering high quality services that will benefit students in their academic pursuits and any future endeavors.
Professor Reyadh Al Mehaideb, Vice President of Zayed University, praised the achievement that Zayed University Students Accessibility Services Department accomplished through exerting endless efforts to empower students with disabilities and adopting innovative and non-traditional tools, which helped them to become independent, integrate more with their counterparts, and enjoy a better quality of academic life at Zayed University.
"The recognition of Zayed University Students Accessibility Services Department as an Apple Distinguished Program highlights our success as an innovative and compelling learning environment that engages students and provides tangible evidence of academic accomplishment," Professor Al Mehaideb added.
For her part, Dr Marilyn Roberts, Provost of Zayed University, said: "Since its foundation, Zayed University has been a forward thinking institution. It serves both the academic needs of our students and the community's aspirations. The Students Accessibility Services Department's extensive and effective use of assistive technology is an excellent example of our innovative and creative commitment to serve all students' needs and the community at large. Zayed University is committed to providing students with disabilities the opportunity to be fully integrated in the university in classes and extra-curricular activities."
Furthermore, Fatma Al Qassimi, Manager of Students Accessibility Services Department, said: "It is our great pleasure and pride to see Zayed University students with disabilities using the best technical and most advanced services that Apple offers to enable them to perform their mission independently and integrate with their peers similarly."
"Zayed University has a unique and distinguished experience in implementing the most progressive technologies to enable students with disabilities to complete their studies and make a meaningful contribution to their local community and to the UAE society as a whole. Additionally, through the use of iOS accessibility features, Zayed University enhanced teaching and learning for students with disabilities, who regularly attend their classes and workshops organized by the Students Accessibility Services Department."
Mohja Ibrahim, Specialist at the Students Accessibility Services Department, said: "Zayed University actively promotes the use of iPad to their students with disabilities. iPad allowed me to support students with disabilities, whatever their special needs might be, to communicate in a better way and integrate them into a normal education system to be equal participants in the learning process."
The recent technology adoptions in the various academic programs at Zayed University dramatically changed the learning experience for students with disabilities.
Omar Al Hashmi, a Zayed University student with visual impairment, said: "I faced various barriers and challenges personally and academically. However, my life changed completely after joining Zayed University. I have received an excellent foundation at the Students Accessibility Services Department. We were trained to use Apple devices, such as MacBook and iPad. I was capable of browsing and reading easily using various applications to enhance the size of the text. I successfully met the learning outcomes like the rest of the students, just in a different way."
Al Hashmi added: "With the support of an iPhone currency reader application, I was also able to identify money easily, which is a very challenging task for a visually impaired individual."
ENDS//
About Zayed University
Zayed University is today the premier national university in the United Arab Emirates and a regional leader in educational innovation and change. It has created and implemented a skills-rich, outcome-based general education program that systemically develops student skills, knowledge, and values associated with liberal learning and provided a solid foundation for pursuit of disciplinary majors and future careers. Zayed University welcomes national and international students, and provides them with a high quality education, offered by seasoned teaching scholars to prepare them to shape the future of the United Arab Emirates.
Zayed University offers Undergraduate and Graduate degrees in the following Colleges: College of Arts & Creative Enterprises (recognized as substantially equivalent by NASAD), College of Business (Accredited by AACSB), College of Communication & Media Sciences (Accredited by ACEJMC), College of Education (Accredited by NCATE), College of Humanities and Social Sciences, College of Natural and Health Sciences, and College of Technological Innovation (Accredited by ABET). For more information, visit www.zu.ac.ae
Media contacts: Sara Sabry, Media Relations Specialist at the Office of the Vice President at Zayed University
Dir-Tel: 025993630
Mobile: 0566561059
E-mail: Sara.Hassan@zu.ac.ae
Web: www.zu.ac.ae
Source :
Zayed University

Business Info :
Zayed University
United Arab Emirates