Zayed University pays tribute to the Mother of the Nation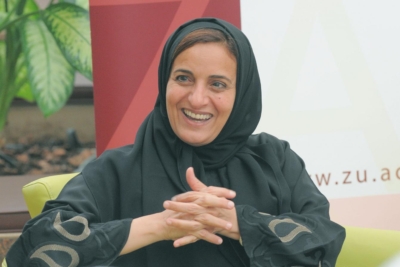 Press Release (ePRNews.com) - ABU DHABI, UAE - Aug 27, 2016 - Zayed University launched a campaign to say thank you and pay tribute to the Zayed University launched a campaign to say thank you and pay tribute to the Mother of the Nation, Her Highness Sheikha Fatima bint Mubarak, Chairman of the General Women's Union, Supreme Chairwoman of the Family Development Foundation and President of the Supreme Council for Motherhood and Childhood, who has always prioritized the welfare and well-being of the women of the UAE.
In line with the directives of Her Excellency Sheikha Lubna Al Qasimi, Minister of State for Tolerance, President of Zayed University, the Student Life launched a campaign to mark the Emirati Women's Day, which falls on August 28, and to promote Zayed University's colleges, majors, services, and departments by displaying how the university has played a leading role in greater integration of women in the workplace.
Therefore, the Student Life department launched a new hashtag #UAEwomensday on Twitter to help women in the country speak out on diverse issues by giving them a global voice, to thank H.H. Sheikha Fatima for a life dedicated to Emirati women's empowerment and the UAE Government for enhancing the role of women in economy.
Roslyn Trezevant Haley, who works as Director of Student Success at Zayed University, said: "The value of a career in education is seeing others grow and reach their academic and professional goals. These rewards are intangible and do not come from the things that money can buy but are evidenced in the smiles of gratitude and expressions of thanks that are eternally etched in our hearts."
The social-media platform Twitter was also vibrant with unique tweets and compelling stories of successful Emirati women, who work and study at Zayed University.
Hayfa AbdulJaber, Instructor at the College of Natural and Health Sciences at Zayed University, tweeted, saying: "The advancement of women is the advancement of everyone in our society. In celebration and support of UAE Women's Day, ROCK ON."
Additionally, a group of six Zayed University students launched an account on Instagram under the name " Umna Tstahl", which means –'Our Mother Deserves' in English, to thank H.H Sheikha Fatima for her commitment and initiatives that have been a key component of the UAE's long-term success as a nation.
Ghaya Al Teneigi, Nour Al Marzooqi, Noura Suroor, Hajer Al Teneiji, Asma Al Junaibi, and Nouf Al Muhrrami filmed faculty members and staff at Zayed University, who sent gratitude messages to H.H. Sheikha Fatima, as an appreciation for her efforts as well as an expression of the society's pride in her as a symbol of continuous generosity.
"Umna Tstahl is a mark of respect and gratitude to H.H Sheikha Fatima, who empowered Emirati women to see their fruitful contributions and achievements evidenced across the spectrum of nation-building- from aviation, military, police, science and technology and entrepreneurship," Ghaya said.
"Umna Tstahl" video made by Zayed University students is available online at YouTube.
Zayed University will celebrate Emirati Women's Day on Sunday August 28 in Dubai campus. Her Excellency Sheikha Lubna Al Qasimi will be attending the event as well as Professor Reyadh AlMehaideb, Vice President of Zayed University. The event will also witness the participation of inspiring Emirati women who narrate their success stories.
ENDS//
Source :
Zayed University

Business Info :
Zayed University
United Arab Emirates