Scientology Volunteer Ministers of Florida Respond to Texas Floods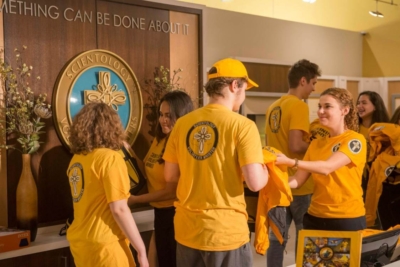 Press Release (ePRNews.com) - CLEARWATER, Fla. - Aug 30, 2017 - 50 volunteers from the Scientology Volunteer Ministers of Florida left Clearwater this week to join the growing number of people in Houston to help in the wake of Hurricane Harvey.
"Hurricane Harvey has affected over 30,000 people so they need all the help they can get," said Ms. Glendy Goodsell, the Executive Director for the Volunteer Ministers of Florida. "The Scientology Volunteer Ministers cannot shut their eyes to such devastation."
There are currently hundreds of Texas residents helping the National Guard, FEMA and other organizations rescue victims of the hurricane. Many people are still trapped in their homes even though over 10,000 people have been rescued so far.
In addition to giving their support in man-power, the Volunteer Ministers are gathering hygiene supplies, such as diapers, toothbrushes, toothpaste, hand sanitizer and more for those who are without homes.
Volunteer Ministers have trained and partnered with more than 800 different groups, organizations and agencies including the Red Cross, FEMA, the National Guard, and police and fire departments.
"Expect to see hundreds of our signature yellow shirts in Houston," said Ms. Goodsell. "Our motto is 'Something Can Be Done About It' and that's exactly what we intend to do."
For more information on how to contribute, please visit the Volunteer Minister Center in Downtown Clearwater or contact them at (727) 467-6965 or email glendy@volunteerministers.org.
About the Church of Scientology:
The Scientology religion was founded by humanitarian and philosopher, L. Ron Hubbard. The first Church of Scientology was formed in the United States in 1954 and has expanded to more than 11,000 churches, missions and affiliated groups, with millions of members in 167 nations. Based on L. Ron Hubbard's words, "A community that pulls together can make a better society for all," the Church of Scientology regularly engages in many humanitarian programs and community events. To learn more, visit www.scientology-fso.org.
Source :
Church of Scientology