Sebring Services Wins Award for Bathroom Design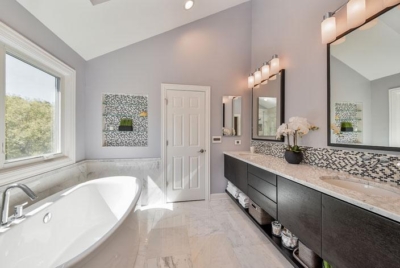 Press Release (ePRNews.com) - NAPERVILLE, Ill. - Mar 10, 2017 - Sebring Services has won second place in a design contest organized and hosted by Wellborn Cabinet Inc. in the remodeled bathroom category. The competition featured a wide range of entries from various home remodeling companies across the United States.
Based in Naperville, Illinois, Sebring Services has always had a knack for creating amazing family-friendly designs. Their winning master bathroom project is a perfect example of their underlying quality and attention to detail.
The End Result
The focal point of the redesigned bathroom is a rich Onyx painted Oak Wellborn cabinet with a modern slab door and drawer front profile. The Sebring designer helped guide the client toward a dark wood that created an arresting contrast to the clean neutral-colored walls and marble flooring.
Shared Company Values
Sebring Services emphasizes superior work, quality, and a great customer experience. Wellborn Cabinet is a family owned and operated company that prides itself on providing high quality products with integrity & accountability that further develop personal relationships. All of Wellborn's wood cabinetry is hand crafted in the United States which Sebring proudly supports.
According to Bryan Sebring, the owner, Wellborn cabinets are their preferred choice in all of their home remodeling projects. He said, "we are so honored and proud to be one of the 150 prestigious design firm entries".
A New Year With New Growth
For Sebring Services, this win is yet another confirmation that their design and quality is on par with the industry expectation. Never wanting to disappoint, the team is always aspiring to move the bar higher and keep ahead of the trends. They welcome challenging projects and continue to deliver beautiful spaces every time. If you are considering a home remodel, whether in a bathroom, kitchen, or basement, reach out to see if Sebring Services (http://www.sebringservices.com/) is the right fit for your project.
Check out the winning bathroom design (http://www.sebringservices.com/portfolio/doug-natalie-aur…) photos.
Wellborn Cabinetry
38669 AL-77, Ashland, AL 36251
(800) 762-4475
Sebring Services
424 Fort Hill Dr, Ste 105, Naperville, IL 60540
(630) 369-6829
Source :
Sebring Services

Business Info :
Sebring Services
424 Fort Hill Drive Ste 105
Naperville, Illinois - 60540 United States
Phone: 630-369-6829
Website:
http://www.sebringservices.com/