Stock Image Sartup Welcomes All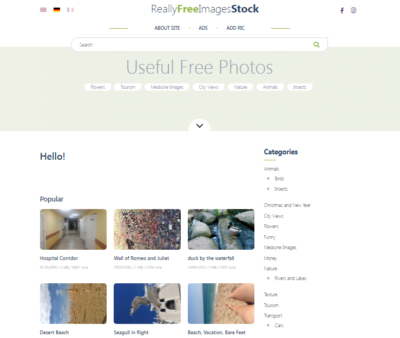 Press Release (ePRNews.com) - NYC - Feb 21, 2022 - February 21, 2021 There's a new entrant in the world of online stock media, reallyfreeimagesstock.com. Many stock media websites claim to be free, but when examining the fine print users find these websites aren't exactly what they claim to be. They may be free but limited use, or only offer a free trial, or have onerous attributions that have to be included. All these limitations create restrictions that make using the media, or even finding the right media, difficult at best.

Reallyfreeimagesstock.com contains photos and pictures for personal and commercial use. No usage fees, no limited free trials, no paragraph long attributions. Just free media for users to download for whatever their project may be. Reallyfreeimagesstock.com uses crowd sourcing in order to create its online catalog. Anyone can add photo, pictures, etc. Though only recently taken out of beta testing the catalog currently has over one million downloads. This is a testament to the quality of the media available and of the skill possessed by its many users who upload images on a daily basis.
"It's true that we are just recently out of beta testing, but as we add features I firmly believe we will become the go to source for media for both personal and commercial use," says startup lead and founder Ande No, "and right now we are ready to welcome anyone and everyone to use our website."
To help increase its accessibility reallyfreeimagesstock.com plans on implementing both a German and French language version of its website. This is a clear sign of reallyfreeimagesstock.com's commitment to ease of use and simplicity for its users.
For more information please go to https://reallyfreeimagesstock.com/.
About reallyfreeimagesstock.com
Reallyfreeimagesstock.com is a startup envisioned and pioneered by Ande No, an entrepreneur with years of experience in online marketing. For more information please contact info@reallyfreeimagesstock.com.