T-Bike Concept is now an Official Retailer of KTM Bicycles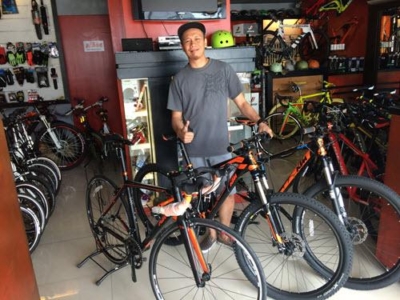 Press Release (ePRNews.com) - CAINTA, Philippines - Dec 27, 2016 - T-Bike Concept, one of the premiere bike shops located in Ortigas Ext. Cainta, Rizal now carries KTM mountain bikes, full suspension bikes, road bikes, and the premium carbon framed bikes. A wide selection of KTM bicycles is now available for viewing at the shop. Customers looking for a specific model that happens to be unavailable can still be accommodated. T-Bike Concept will simply contact KTM and order the bike for you.
The brand KTM has long been synonymous with quality and great craftsmanship so when the opportunity to sell their line of bicycles was presented to T-Bike Concept, the management could not refuse.
When asked why they wanted to carry KTM bikes, owner Wilson Lim stated, "It's a no brainer, KTM has been producing high quality bicycles since 1964 so it is an honor to be one of their authorized retailers."
"One of our missions here at T-Bike Concept is to be able to provide great quality bikes at an affordable price and KTM bicycles fit that well. The bikes are very well crafted and the price is way lower than they're counterparts."
KTM bicycles is poised to capture the interest of many bike enthusiasts here in the Philippines. One of the biggest things that sets KTM apart from its competitors is its price point. If you have shopped around at high end bike brands like Specialized, you'll be surprised at how affordable the counterparts are at KTM.
"I am very excited about the future of KTM bicycles here in the Philippines. Finally, we have a company that provides affordable bikes without any compromise in quality. I'm excited to see everyone in my neighborhood enjoy their KTM bikes." Says Wilson Lim.
Bike enthusiasts are encouraged to visit T-Bike Concept and view the available bikes on offer.
T-Bike Concept offers a wide range of bikes from mountain bikes, road bikes, folding bikes, fixie bikes, and more. Parts and upgrades are also available to cater to enthusiasts who would want to upgrade their ride.
When it comes to service and maintenance, T-Bike Concept (http://www.tbikeconcept.com/) is also the go-to bike shop of enthusiasts. The bike technician at T-Bike is one of the best bikers here in the Philippines and have won many competitions.
Source :
T-Bike Concept

Business Info :
T-Bike Concept
Km 18 Ortigas Ave. Ext.
Cainta, Rizal - 1900 Philippines
Phone: 09238914477
Website:
http://www.tbikeconcept.com/