Carbon Crusher is a Complete Fuel System Cleaner from E-ZOIL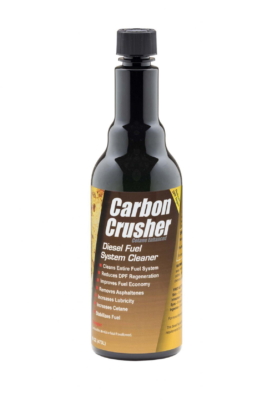 Press Release (ePRNews.com) - TONAWANDA, N.Y. - Mar 15, 2017 - E-ZOIL, manufacturer of performance-enhancing fuel additives and cleaning solutions, has introduced Carbon Crusher, an all-around diesel fuel system cleaner designed to reduce fuel costs by cleaning the entire fuel system from top to bottom.
"Carbon Crusher is formulated especially for high pressure common rail fuel systems to remove deposits that can reduce fuel economy and to dissolve asphaltenes that plug fuel filters," said E-ZOIL vice president Christopher Miller. "Carbon Crusher increases power, reduces diesel particulate filter (DPF) regeneration and stabilizes fuel for prolonged use."
Carbon Crusher contains state-of-the-art detergents to help remove carbon deposits throughout the entire fuel system, including both traditional coke deposits and internal diesel injector deposits (IDID). IDIDs are found in high pressure common rail fuel systems.
Carbon Crusher includes a heavy-duty lubricant that increases lubricity and reduces fuel system component failure. The product also increases cetane. Higher cetane helps diesel fuel to ignite faster which makes the engine run better.
Carbon Crusher is available from authorized E-ZOIL distributors in 8- and 16-ounce bottles, a 1-gallon bottle and a 5-gallon pail. An 8-ounce bottle can treat 100 gallons of diesel fuel. Carbon Crusher works best when it is added before filling a tank of fuel.
E-ZOIL performance additives are formulated for today's ultra-low sulfur diesel and biodiesel blends. The company's products meet all emission standards, will not plug DPFs and provide added protection for diesel-powered equipment.
For more information on E-ZOIL, phone 716-213-0106 or visit www.ezoil.com.
Image attached
About E-ZOIL
Founded in 1980 with headquarters near Buffalo, New York, E-ZOIL manufactures a complete line of performance-enhancing fuel additives and cleaning solutions for fleet owners, owner-operators and consumers to protect their diesel vehicles and equipment. E-ZOIL specializes in highly concentrated formulas developed by the company's in-house chemists and backed by over three decades of expertise. E-ZOIL products improve vehicle power and mileage, reduce costly breakdowns and downtime, assist with preventive maintenance and enhance and protect vehicle appearance. For more information, visit www.ezoil.com (http://www.ezoil.com/?utm_source=Vocus&utm_medium=PR&…).
For further product information, contact:
Christopher Miller, Vice President
E-ZOIL Products, Inc.
716-213-0106
cjmiller@ezoil.com
For further PR information, contact:
Gary McCoy, Public Relations Director
Marx Group
847-372-0722
gmccoy@marxgrp.com
Source :
E-ZOIL