TalkTalk Adopts Skyguard's MySOS Lone Worker Alarms to Protect Their Engineers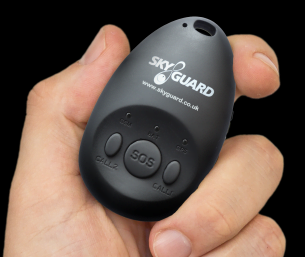 Press Release (ePRNews.com) - EPSOM, England - May 18, 2016 - TalkTalk, the UK's leading value for money provider of broadband, mobile and TV services, has turned to Skyguard to help protect their Field Engineers whilst working alone and out of hours.
With any form of lone working, a robust policy should be in place to ensure staff are adequately protected when performing their duties. With that in mind, TalkTalk selected 120 MySOS personal safety devices for use by their Engineers. The keyfob-sized alarm enables users to call for help in an emergency at the touch of a button. With GPS-technology, two-way audio communications, 'Mandown' fall detector and voice-memo (amber alert) functionality, the MySOS is the complete, fully accredited solution for lone worker protection.
In the event of an incident, a user activates the alarm on their MySOS device. The alarm is sent via mobile phone technology to Skyguard's 24/7 Incident Management Centre. There, experienced Controllers immediately know who the user is, their profession, medical history – even what they look like – (all this information is treated in total confidence). Because the MySOS is GPS enabled, Controllers will know where they are. They'll listen to ambient sound in their vicinity. If it's safe to do so, they'll talk to them. They'll review their individual information and preferred action in case of emergency. Within seconds, a course of action will be decided upon. It may be summoning an emergency service, Skyguard's own National Response Service, or someone designated by the client. Whatever Skyguard do, the action taken is designed to neutralise the threat or resolve the incident as quickly as possible.
The small-size of the MySOS was a key factor in TalkTalk's decision to use Skyguard. "All the other options were too bulky and we wanted a supplier that reflected our own agile approach," states Alan Cowlishaw, Compliance Engineer for TalkTalk. "It's also very easy to use and the price was competitive. All in all, it's complete peace of mind that our Engineers have protection when out working."
Skyguard's Marketing Director Will Murray added "It's vital that organisations adopt a rigid lone worker policy. With fines of up to £20 million for serious health and safety breaches, this is a clear message to businesses that lone worker safety must be prioritised. TalkTalk have demonstrated their commitment to the safety and wellbeing of their Engineers by equipping them with the MySOS device."
For more information on Skyguard's products please call 0845 0360 999 or visit www.skyguard.co.uk
-Ends-
Note to Editors:
About Skyguard
Established in 2000, Skyguard provides Europe's premier personal safety service for lone workers and people at risk. Skyguard offers a range of state-of-the-art personal safety devices linked to our own purpose built, UK based, 24/7 Incident Management Centre certified to the highest lone working industry standards (BS 8484, BS 5979 Category II). It was the first single purpose Alarm Receiving Centre in the UK to receive these certifications by NSI's ARC Gold Approval scheme. Skyguard is the UK's only wholly owned end-to-end service provider, with each component fully certified to all elements of BS 8484.
One of the few companies in the industry to have GPS devices and an ARC accredited by ACPO's coveted Secured by Design, the Skyguard service is used by over half the UK's Police forces to protect the most vulnerable in society.
In August 2011, Skyguard launched the world's first and only localised emergency response service operating in 36 countries across Europe, the Russian Federation and South Africa.
Skyguard is a subsidiary of the Send For Help Group – the largest lone worker protection provider in the world, with a total subscriber base of 70,000 end users across a diverse range of vertical markets. For more information visit: www.sendforhelp.co.uk
For media enquiries please contact:
Will Murray, Marketing Director, Skyguard Ltd
E: will.murray@skyguard.co.uk
T: +44 (0)20 8786 3305
Source :
Skyguard Ltd