TapClicks Announces Integration Partnership With SweetIQ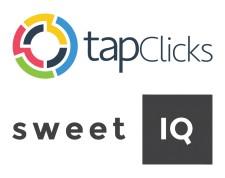 Press Release (ePRNews.com) - San Jose, CA - Jun 16, 2017 - TapClicks, the leader in digital marketing reports for agencies and enterprise business announced today its integration of SweetIQ, a premier location management software for multilocation consumer engagement. The integration comes hot on the heels of several high-profile integrations for TapClicks and the latest version update that makes the platform even more powerful.
SweetIQ provides multilocation brands, agencies, and SMB resellers with robust tools that move consumers from online searches to in-store foot traffic through managed location data and consumer engagement metrics. SweetIQ gives brands control over their online presence with review monitoring, location listings, search and conversion data, advanced local campaigns, and store microsites.
SweetIQ customers will be able to view their local marketing metrics in TapClicks, including the listing, review, keyword, and conversion funnel data for any campaign. Users can take control of their local online presence, viewing key performance analytics in TapClicks alongside other pertinent business metrics provided by the over 170 data sources in the Connector Marketplace.
The TapClicks advanced and easy-to-use reporting platform gives multilocation brands and agencies the power to view deep local metrics from SweetIQ alongside business-critical marketing data from connected data sources. TapClicks gives users granular control over their data to show account health and data trends. The reporting platform drills down to the campaign, groups metrics by client, and expands to the 10,000-foot views for full account health. TapClicks connects agencies and enterprise business with all of their data across their marketing tools, making that data ready for analysis and reporting, to make data scientists out of marketers.
About TapClicks
TapClicks, Inc. is a leading marketing technology company and marketing dashboard and reporting provider for agencies, media companies, brands and enterprises. Its new, fully integrated marketing operations platform includes an order entry and proposal generator, enhanced workflow and task management, insightful analytics, and automated reporting — all within a single intuitive user interface available on demand in the cloud.
Today, TapClicks delivers over 1,000,000 marketing dashboards to over 10,000 brands and over 3,500 media companies and agencies worldwide. TapClicks was founded in 2009 and has offices in Europe, Latin America, and across the globe in addition to its Silicon Valley headquarters. For more information, please visit tapclicks.com.
About SweetIQ
SweetIQ by ReachLocal delivers industry leading location-based marketing analytics and automation solutions. SweetIQ location and reputation management software enables multilocation brands, marketing agencies, and SMB resellers to manage their location data, measure consumer engagement, and convert online searches to in-store foot traffic. SweetIQ is offered by ReachLocal, a subsidiary of Gannett Co., Inc. (NYSE: GCI).
PR Contact
Jon Henshaw
jon@tapclicks.com
615-358-8481
Source :
TapClicks, Inc.