The Exclusive Art of War Cast Silver Figurine Series From Bullion Exchanges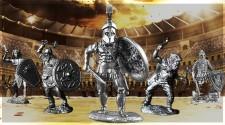 Press Release (ePRNews.com) - New York City, NY - Aug 05, 2016 - Bullion Exchanges decided to surprise its collectors with a brand-new and exclusive "Art of War" cast silver statuette series. This unequal collection was released for investors passionate of ancient and modern historical battles, wars, military techniques, and weapons. Each cast silver sculpture was thoroughly crafted by skilled artisans to produce a unique collectible piece for history enthusiasts and fans.  
This impressive cast silver collection provided by Bullion Exchanges was also inspired by the well-known ancient military treatise – "The Art of War", attributed to the famous Chinese military strategist from the 5th century BC – Sun Tzu ("Master Sun"). The 13 chapters of this outstanding book describe significant aspects of military strategy and tactics, and it's considered the most influential book about warfare in the world, being translated into several languages and motivating many civilizations during different centuries of war history.
Inspired by various historical war periods, Bullion Exchanges released these first silver warrior sculptures:
3 oz Silver Russian Warrior Middle Ages .999 Fine Silver – remarkable cast silver figurine representing a heavily armed Russian Warrior, who fought during the Kulikov Battle in 1380. The warrior is standing on his left foot while holding his hatchet and shield.

3 oz Silver Norse Berserk Viking Warrior .999 Fine Silver – exceptional cast silver sculpture displaying a bare-skinned Berserk Viking Warrior wearing only his wolf skin and fiercely handling his two battle-axes.

3 oz Silver Norse Warhammer Viking .999 Fine Silver – splendid cast silver statuette showcasing a brave Norse Viking Warrior holding his majestic Warhammer and shield while wearing his impressive hauberk.

3 oz Silver Spartan Hoplite Greek Warrior .999 Fine Silver – outstanding cast silver sculpture featuring an ancient Greek citizen soldier, known as "Hoplite," holding his shield and sword while wearing the iconic transverse horsehair crest – the helmet worn by Greek army officers.

2 oz Egyptian Khopesh Warrior .999 Fine Silver – exquisite cast silver figurine depicting an Egyptian warrior holding the sickle-sword called Khopesh in his right hand. This two feet ancient Egyptian weapon featured a curved and thin blade and was used by the New Kingdom Armies.
Choose your magnificent "Art of War" cast silver warrior figurine!
Bullion Exchanges casts all these fantastic "Art of War" precious metal warriors from .999 pure silver with a special antique finish. This particularity makes the silver figurines look like struck hundreds of years ago and give them a refined, vintage appearance.
Each of these exclusive silver statuettes was cast by Bullion Exchanges skilled craftsmen making them unique collector pieces. During the sterling silver casting process, the silver fills up the figurine case in distinct ways, leading to variances in shape or tone and making every silver warrior sculpture a one-of-a-kind investment addition and a fantastic gift option.
Browse the stunning "Art of War" cast silver warrior figurine collection!
Bullion Exchanges is one of the largest and most reliable Precious Metals Retailers. The company is located in the Diamond District Area – the heart of NYC. Bullion Exchanges offers you a wide selection of high-quality bullion products made of the most popular precious metals, including but not limited to silver and gold, as well as the newly emerging platinum and palladium.
At Bullion Exchanges, we accept orders online at BullionExchanges.com or by phone at 800.852.6884, providing free US shipping for all orders over $75(USD). These splendid Bullion Exchanges "Art of War" silver figurines will be carefully wrapped and safely shipped. You can get these exceptional warrior figures also by visiting the Bullion Exchanges retail store located at – 32 West 47th Street, Booth 41-46, New York, NY 10036 – open Monday-Friday, from 9am-5pm EST.​
Source :
BullionExchanges.com