The Goddard School's Dynamic Learning Through Play Curriculum Comes To Denver (Highlands), CO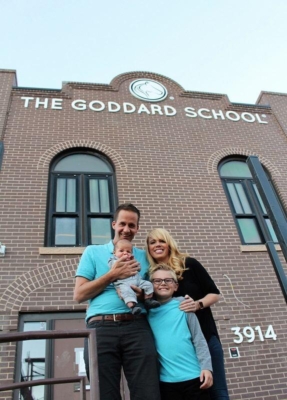 Press Release (ePRNews.com) - DENVER - Apr 17, 2017 - Goddard Systems, Inc. (GSI), the franchisor of The Goddard School® preschool system, announces its latest school in Denver, CO is open. Located at 3914 King St. in the Highlands region of downtown Denver, the new school is operated by husband-and-wife franchisees, David and Allison McMurtry.
David, a veteran of the educational and foster care systems with nearly two decades of teaching and admissions experience, met Allison in 2013. Prior to their meeting, Allison's son attended two different locations of The Goddard School as a young boy. With David's educational background, and Allison's first-hand experience watching her son Colin benefit from The Goddard School's holistic learning philosophy, the McMurtrys began considering ownership of their own location of the preschool franchise in 2015. They ultimately chose to occupy a historic building just northwest of downtown Denver that has been utilized for more than 100 years to serve the youth in the area. In fact, the couple was so touched by the building's unique history, they are planning to install a "history wall" within the school that will showcase old community newspaper clips, photos, and letters which pay tribute to the people and stories that make up the area's rich past.
The Goddard School preschool system prides itself on its unique dual-management system, a distinguisher in the early childhood education industry. Franchise owners are onsite at each location and work alongside an educational director, whose focus is to communicate and work with teachers, as well as to implement The Goddard School curriculum. This system ensures a hands-on, community-focused approach when it comes to early childhood education. With each school opening, The Goddard School also has a local economic impact, creating an average of 20 to 25 jobs within the community.
The Goddard School's play-based approach, called Fun, Learning Experience (or F.L.EX.®), is grounded in research on how children learn best: children experience the deepest, most genuine learning when they are having fun.
At The Goddard School, the focus is on building each child's emotional, academic, social, creative and physical skills to provide a well-rounded experience and ensure each one becomes confident, joyful and fully prepared in school and in life.
"With nearly 30 years of experience in early childhood education, The Goddard School's unique dual-management system creates lasting community bonds as owners are on-site at the Schools to provide support to the communities they serve," said Joe Schumacher, Chief Executive Officer of Goddard Systems, Inc. "One area that truly sets us apart from other childcare systems is our philosophy based on learning through play, designed to teach and reinforce 21st century skills, including social behaviors such as communication, critical thinking, creativity and collaboration. This philosophy fosters a lifelong love of learning and creates meaningful connections at an early age."
Jobs relating to STEAM (science, technology, engineering, arts and mathematics) are currently the fastest growing segment of the U.S. economy, and a focus on developing 21st century skills such as creativity and innovation, as well as the abilities to collaborate, communicate and think critically, is expected to increase over time. By introducing 21st century skill concepts early on, children develop a strong foundation and a passion for STEAM at the very beginning of their education.
"Having experienced the positive impact that The Goddard School made on Colin's successes in and outside of the classroom, Allison and I knew this was the only childcare franchise we were interested in pursuing" said owner David McMurtry. "The Goddard School is more than just a preschool; we are a community and a family. We look forward to becoming a greater extension of the Denver community."
The Goddard School located in Denver (Highlands), CO can be found at 3914 King St., Denver, CO 80211. Please call 303-800-0225 or email Denver3CO@goddardschools.com. For general information and franchising opportunities, please visit http://www.goddardschoolfranchise.com.
ABOUT THE GODDARD SCHOOL® FRANCHISE
The Goddard School Franchise, franchisor of The Goddard School preschools, is consistently named one of the top childcare franchises in the United States by Entrepreneur magazine, and one of the Top 200 Franchise Systems (in worldwide sales) by Franchise Times. Headquartered in King of Prussia, Pennsylvania, The Goddard School franchise currently licenses more than 460 franchised Schools with more than 65,000 students in 36 states. The Goddard School's AdvancED- and Middle States-accredited F.L.EX.® Learning Program (Fun Learning Experience), a comprehensive play-based curriculum developed with early childhood education experts, provides the best childhood preparation for social and academic success. With a proven system in place and a strong network of dedicated franchisees, The Goddard School Franchise is the acknowledged leader in franchised childcare and a premier educational childcare provider. For more information, visit http://www.goddardschoolfranchise.com.
Source :
The Goddard School