The unite4:good Foundation Announces unite4:humanity Gala on April 7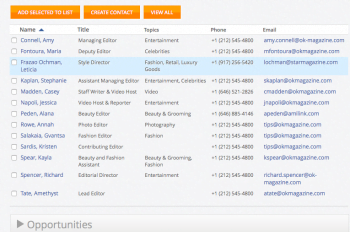 Press Release (ePRNews.com) - LOS ANGELES - Mar 15, 2017 - unite4:good (www.u4g.com) announces the 4th annual unite4:humanity gala presented by the unite4:good Foundation to be held at the Beverly Wilshire, A Four Seasons Hotel on Friday, April 7th.
The brightest stars from the worlds of entertainment, business and sports will be honored in recognition of their global philanthropic commitments, alongside community heroes who are using their voices and platforms to inspire while promoting positive change.
Among this years honorees is award winning singer-songwriter, dancer and choreographer Paula Abdul who will receive the Music Visionary Award for her work with The LEAP Foundation. Wilmer Valderrama will receive the Young Visionary Award for his work with the #IamAnImmigrant campaign. Global innovator, entrepreneur and one of the original investors on ABC's Shark Tank, Kevin Harrington will be honored with the Visionary Business Leader Award. Walter O'Brien, CEO of Scorpion Computer Services and executive producer of the CBS series Scorpion, will be awarded with theHumanitarian Lifetime Achievement Award.
unite4:good will also be honoring select philanthropic organizations and brands in acknowledgement of their continued efforts for good including Dr. Frank Shankwitz, Co-Founder of the Make-A-Wish Foundation® of America, who will accept the award for Largest Social Impact Foundation of the Year. The American Society for the Prevention of Cruelty to Animals® (ASPCA) will receive the Visionary Award for their ongoing work to fight animal cruelty. William Benson will accept the Visionary Brand of the Year Award on behalf of New York-based Billionaires Row® Champagne.
The 2017 unite4:humanity gala will be hosted by comedian and magician Harrison Greenbaum(Harrison Greenbaum: What Just Happened?) while this years award presenters will include Glenn Keogh (Scorpion) and more!
Premiere Sponsors include Powerteam International, the leading success education company in the world, and Billionaires Row® Champagne, a premier luxury spirit.
For more information please visit: www.u4g.com
###
Please join the social conversation
Instagram: https://www.instagram.com/unite4good/
Twitter: https://twitter.com/unite4good
Facebook:https://www.facebook.com/unite4good-1419255105054765/
Hashtags: #u4gunite4humanity #unite4good
About unite4:humanity
unite4:humanity is an annual award ceremony and gala. First held in 2014, the unite4:humanity gala celebrates humanitarian efforts and philanthropists throughout the world, giving awards in several different fields. The unite4:good mission is to promote positivity, inspire charitable engagement and empower acts of kindness and service in order to create a positive shift in our global society. www.u4hgala.com
About unite4:good
unite4:good is a revolutionary global movement that will establish a new standard whereby acts of kindness and service become so valued and celebrated that everyone chooses to make them a part of their daily life. Through empowering action, creating new programs, and uniting both individuals and organizations in innovative ways–we will inspire positive and lasting change on a global scale. unite4:good will encourage everyone to inspire, empower, share and love. www.unite4good.com
www.u4g.com
About The Sponsors
Powerteam International is one of the leading Success Education companies in the world! It provides Corporate & Entrepreneurial training programs, Venture Funding and Business Coaching in cities around the world. PTI offers world class programs such as the Rainmaker Summit Business Intensive, Speaker Trainer Programs and WIN University which is considered to be the Ultimate Private Mastermind for entrepreneurs. Its programs are specifically designed to assist business owners and entrepreneurs create even greater success in today's economy. www.ipowerteam.com
Billionaires Row® Champagne, a New York-based premier luxury lifestyle company, has teamed up with producer Charles Mignon to produce a new Champagne. Billionaires Row Champagne is now making the world celebrate in a grand new way. Wine and champagne reviews are outstanding and the world is beginning to enjoy the newest star in luxury spirits: Champagne Cuvee Billionaires Row Brut Rose Grand Cru, produced and bottled by Charles Mignon, Epernay, France.www.billionairesrow.com
Source :
unite4:good Foundation