Thermal Technology Consumer Product Company SPCARE Set to Launch HOT CIRCLE ALPHA NECK, a Heated Cervical & Thoracic Massager on Kickstarter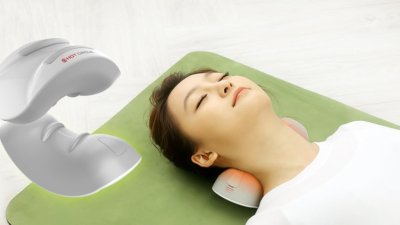 Press Release (ePRNews.com) - SEOUL, South Korea - Mar 24, 2021 - SPCARE Inc., led by CEO Daesung Chang, is announcing that it is taking its core heating technology from its popular Cellion thermal mat line and incorporating it into its new cervical & thoracic massager, "Alpha Neck". For the past several years, the company has been developing and testing different versions of the Alpha Neck prototype in order to create a final product that could be enjoyed by the broad consumer public. Now, SPCARE is planning on launching a Kickstarter campaign for the Alpha Neck in order to raise funds that will be used to bring the product into the manufacturing phase. The Kickstarter campaign is scheduled to go live starting Monday, March 29, 2021, at 9:00 p.m. PST.
The Alpha Neck is double-sided and draws inspiration from three distinct massage styles: Shiatsu, Thai, and Hot-Stone. When placed on the neck-bed side, users will lie on the Alpha Neck, and the contour contact lines on the device, which mimic Shiatsu techniques, will pinpoint specific trigger points in the muscles in order to untie knots placed deep within the tissue. When placed on the back bridge side, users will lie on it so that the upper back and lower neck regions form an archway. The contour contact lines on this side mimic Thai muscle traction techniques to stretch out the muscles in order to eliminate chronic stiffness and soreness within the region. Both sides also feature heating technology which mimics the effects from hot-stone massages. The heat serves to soothe aching muscle so that the effects from the neck-bed side and the back bridge side can be maximized. 
This device was all made possible by the collaboration of SPCARE, licensed physicians, chiropractors, yoga instructors, and fitness enthusiasts. Clinical trials were conducted by Professor Jae-ho Yoo and the Department of Physical Therapy at Sunmoon University over five months. Results showed that users within a group consisting of men and women aged 25-50 years experienced relief from muscle pain/fatigue and that effects were even greater after the device was used with its heating technology. 
With the Alpha Neck Kickstarter campaign launching in just days, individuals interested in the product are encouraged to take advantage of the early bird reward pricing for the product. The first 50 backers will be able to reserve their Alpha Neck for just $75. After that, each reward tier will be priced slightly higher but will remain under MSRP value for the entirety of the campaign as a way to thank the company's Kickstarter backers. Any journalists or social media influencers interested in reviewing the Alpha Neck can reach out through its Kickstarter page. Alternatively, any other business inquiries can be made out to:
JJ Min, CMO of SPCARE
email: jjmin@spcare.co.kr
phone: +82 010-5172-2269
Source :
SPCARE Inc.

Business Info :
Altos Business Group
1501 Westcliff Dr. (#307)
Newport Beach, CA 92660