TimeCup – Automatic Turkish Coffee Maker with Custom Recipes To Launch on Kickstarter
TimeCup is an automatic coffee machine for Turkish coffee, equipped with several sensors and a high-tech heater for complete control of the cooking process.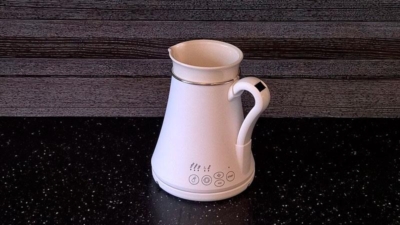 Press Release (ePRNews.com) - MOSCOW, Russian Federation - May 18, 2017 - "TimeCup" is a unique coffee maker designed to make oriental coffee in the realities of modern life. TimeCup BT-400 is a technical and ideological development of the TimeCup CM-620. The launch of the crowdfunding campaign is scheduled for mid-May 2017.
The final goal of the company is the amount of $ 20,000. These funds are necessary to establish a full-fledged production of a new model of electrical cezve.
CEO and founder of TimeCup Andrew Fedorov: "Our mission is to make the process of making authentic coffee simple, convenient, technological and independent of the place. In a conventional coffee maker, you can make coffee only on a gas or electric stove, the process itself requires close attention. In the conditions of modern life, many people, having an induction cooker at home, cannot make real Turkish coffee. Our first model proved to be a reliable and viable product. We have added several new useful features. With the campaign on Kickstarter, we expect to establish the production of an improved model, as well as enter the international market".
Product Description
– "TimeCup" – an electric coffee machine, designed to make real "oriental" coffee. The purity and depth of the finished beverage taste are achieved as follows:
– Ceramic cup – The cup in which coffee is brewed is made of ceramics manually – a material that does not react with the beverage and does not emit any particles or substances.
– Modern sensors – Provide the necessary temperature regime, quickly warm up the drink and immediately respond to changes in the internal environment.
– Built-in brewing modes: the coffee maker is equipped by default with two modes of cooking coffee – fast and traditional.
– USB and Bluetooth connection – Control your coffee maker remotely using a mobile phone or computer.
– Custom recipes – You can always create your own coffee making mode if the built-in modes do not meet your needs.
More about this product please click here:
https://www.kickstarter.com/projects/1278197133/timecup-a…
About Us
"TimeCup" company was founded in 2013 as a small family business. The idea of creating an electric coffee maker came to Andrew Fedorov in April 2013.
Thanks to the experience and skills of the company's founder, in only 1.5 years, the idea was embodied in life – the production of the first model of electric coffee maker TimeCup CM-620 has begun. The previous model has been selling successfully for two years. In total, since 2014, about 5,000 electrical coffee makers "TimeCup" have been sold.
Source :
TimeCup

Business Info :
TimeCup
Russian Federation