JOIA Your Perfume always with you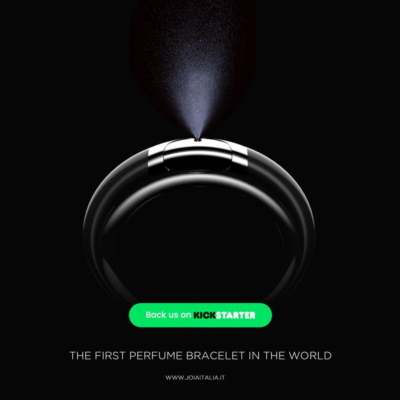 Press Release (ePRNews.com) - VICENZA, Italy - Aug 06, 2016 - Italy – it is time for the young company all Made in Italy (www.joiaitalia.it) to debut officially and will do today, Thursday, July 28 at 16.00 am on Kickstarter, the most important crowdfunding platform for companies in start-ups with innovative, dynamic projects, launching in the market the new bracelet, chest essence of every woman, JOIA.
JOIA is just a unique design bracelet, will allow every woman to bring along their own fragrance in it having the possibility of splashing their fragrance whenever you feel the need.
"With a rechargeable cartridge and an intuitive gesture you can recharge your bracelet whenever you want to" – explains Roberto Donnarumma (49 years) CEO and Founder of 4PassionItalia and avoid disagreeable trouble given from the transport of various bottles.
Available in 12 colors and / or combined with zircons Swarovski cut, before the end of September will also be realized in the luxury version, complete with gold pieces and precious materials and maybe finished with brilliant first quality that will allow to own a genuine piece Fine jewelry and at the same time be innovation in the field of Perfume.
"We choose Kickstarter because we want to make known and appreciated not only in Italy but all over the world the quality of the Italian product – explains Carlo Oselladore (53 years) Chairman of 4PassionItalia – and in the very near future involving the designer who may undertake the their versions of JOIA limited edition"
Go on Kickstarter and discover this new weapon of female seduction! https://www.kickstarter.com/projects/1172879376/joia-a-se…
Do you want to ask for more information about JOIA? Write to us at info@joiaitalia.it and we will get in touch with you as soon as possible.
JOIA will available in pre-order mode on Kickstarter the most famous crowdfounding platform in the world and will be delivered all over the world apart from the first days of September. All the JOIA information you can find on our website www.joiaitalia.it
Source :
JOIA ITALIA