THINKWARE DASH CAM Wins Top International Design Award
The International Design Excellence Awards have recognized the company's F800 and F770 Dash Cam models for product design excellence in the field of Consumer Technology.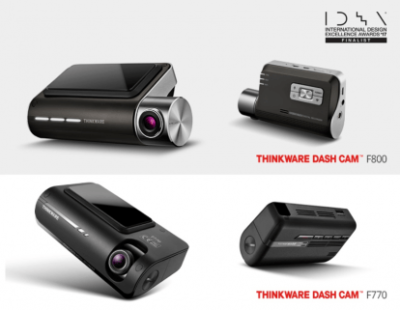 Press Release (ePRNews.com) - SAN FRANCISCO - Jun 07, 2017 - World leading dash cam company, THINKWARE, was named an award winner by the International Design Excellence Society for its F800 and F770 Dash Cam models. The two models were honoured as part of the International Design Excellence Awards (IDEA), a premier international design competition that spotlights product design excellence across industry sectors. The models were given the leading award in design in the field of Consumer Technology.
Brian Yang, THINKWARE's General Manager of International Business Development said,"We're delighted that the F800 and F770 models received the prestigious IDEA 2017 award, a highly competitive international design honor. This award is not only a testament to the quality of our dash cameras, but also THINKWARE's commitment to developing products that bring together unique technologies with forward-thinking design."
This is THINKWARE's second time winning an IDEA and follows a long line of recognition awarded to the company this year—including the CES 2017 Innovation Award (F800 Model), IF Award 2017, and Red Dot Design Award 2017 (F800 Model).
About the THINKWARE DASH CAM F770
The THINKWARE DASH CAM F770 sets the new standard for advanced, premium built in Wi-Fi enabled dash cams. Featuring a new, sleek, and discreet design, while jammed-packed with features such as Super Night Vision and Time Lapse Recording, the F770 offers a next-level ultimate security and surveillance solution for the everyday driver.
About the THINKWARE DASH CAM F800
The THINKWARE DASH CAM F800 offers an attractive and modern look with a slim frame design, aluminum materials for the round camera module, and an overall 'U' shaped body that creates integration of the entire design. Innovative technologies include:
· Super Night Vision 2.0
· Format free 2.0
· 2CH FHD
· ADAS (LDWS, FCWS, uFCWS, FVDW)
The THINKWARE DASH CAM F800 is expected to be available in July.
About THINKWARE:
Global IT corporation THINKWARE was founded in Korea in 1997. Through consistent research and development in the field of smart car technologies, THINKWARE hasestablished itself as the market leader in various sectors such as dash cams, electronic maps, navigation, mobile applications, and tablet PCs.
Spearheading the competition with world-class image processing technologies and intuitive user friendly interface, THINKWARE debuted their DASH CAM lines in the US market in April 2014. THINKWARE has confirmed the export of their DASH CAM lines to 10 other countries including UK, Australia, Singapore, and Japan.
At CES 2017, THINKWARE was honoured with the Innovation award of the year in the car audio/video category for the DASH CAM F800. For more information, visit the company's website at www.thinkware.com.
Source :
THINKWARE