TMT Finance World Congress & Awards 2017 announced for London on November 29-30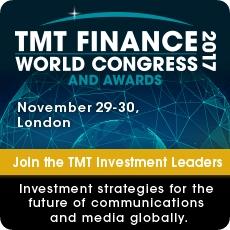 Press Release (ePRNews.com) - LONDON - May 19, 2017 - TMT Finance World Congress and Awards 2017 will take place in London on November 29-30 bringing together key telecom, media, tech and finance leaders to assess the next wave of investment and partnership opportunities globally, TMT Finance has announced.
The annual event, which is produced by global news and events business TMT Finance, is titled: "Investment Strategies for the Future of Communications and Media", and provides a knowledge share and networking platform for TMT leaders, investment bankers, investors and advisers to meet and assess investment strategies.
"There are so many exciting new investment opportunities emerging in the TMT space that we have expanded this year's event to 50 sessions over two days," said Dominic Lowndes, Manging Director of TMT Finance. "Every sector offers a new digitisation opportunity and the leading players in telecoms, media and tech are expanding their investment and targeting new mergers and acquisitions. This event provides a unique global platform for bringing together key stakeholders from industry, finance and advisory."
Over 100 speakers will be announced for TMT Finance World Congress 2017, including leading telecom, media and tech industry CEOs, CFOs and Strategy Heads, and sector leaders from Private Equity, Investment Banking, Management Consulting and Law.
Key session themes include:
• TMT World Leadership Strategies – Who is leading investment and growth globally?
• Digital Transformation – Which digital investment strategies are most successful?
• TMT Mergers and Acquisitions – How are transaction strategies changing?
• Enterprise Cloud – Where is investment taking place in Datacentres, Hosting and Cloud?
• Mobile Towers World – Who is leading investment in the towerco space?
• TMT Infrastructure Leaders – Broadband investment strategies
• Financing TMT – Where to raise debt and equity financing
• Investing in Innovation – Including Artificial Intelligence and Virtual Reality
• Cross Border Deals – Asian outbound TMT M&A and Investment
• Fintech, Mobile Banking, Digital Regulation, 5G, IoT and Big Data
• Investing in Emerging Markets – New strategies for growth
• Digital Media, TV and Video Investment Strategies and Partnership Opportunities
TMT Finance World Congress and Awards 2017 takes place at the Grange Hotel St Pauls, London and also features TMT M&A Awards 2017 and Media Leaders Summit.
For more information go to www.tmtfinance.com/world
Source :
TMT Finance

Business Info :
TMT Finance
TMT Finance Suite 16, 70 Borough High Street, London, SE1 1XF
SE1 1XF England
Phone: 44 (0) 20 3747 4603
Website:
http://www.tmtfinance.com