Trailblazing Real Estate Pioneer Honored by Suffolk County Women's Business Enterprise Coalition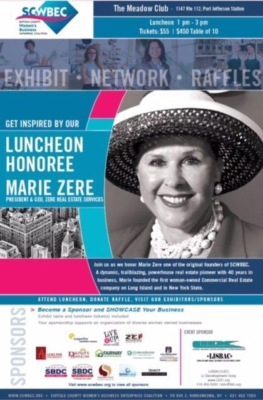 Press Release (ePRNews.com) - RONKONKOMA, N.Y. - Apr 04, 2017 - The Suffolk County Women's Business Enterprise Coalition, Long Island's largest non-profit networking organization for women will honor one of its own at the upcoming Spring Women-In-Business Showcase and Luncheon at the Meadow Club in Port Jefferson on April 25 from 9:00 a.m. to 3:00 p.m.
The annual event showcases goods and services, featuring exhibits by its Sponsors who are local and regional entrepreneurs, resources and members who are women-owned businesses.
According to Forbes "as of 2016, there are now 11.3 million women-owned businesses in the U.S. generating an astounding $1.6 trillion in revenues," with the growth in the number of women-owned firms outpacing the national average by five times.
One of those firms is helmed by the event's Luncheon Honoree Marie Zere, the trailblazing President and CEO of Zere Real Estate Services, Inc., a commercial real estate woman-owned business enterprise (WBE), the first on Long Island and in the state of New York. Marie Zere, together with Linda Jasper and Sally Ann Slacke co-founded the Suffolk County Women's Business Enterprise Coalition (known by its acronym SCWBEC), to help promote women in business to the trades industry; SCWBEC's Chair Lorraine Kimmey agrees with the statement, "small business ownership is not for the faint of heart. It's for the brave, the patient and the persistent. It's for the overcomer. When women support each other incredible things happen!"
In addition to the Luncheon, the event will include an information area where attendees may inquire about the WBE certification process, raffles, including one Super Grand Raffle Prize valued at $2,000.00 and professional head shots offered at a discounted rate by one of the organization's member-sponsors.
Luncheon tickets $55. Walk-ins are welcome to view the exhibits and participate in the raffle drawings at no charge.
To purchase tickets, become a Sponsor or view Showcase details, visit the Showcase Action Center at www.scwbec.org.
About Suffolk County Women's Business Enterprise Coalition
The Suffolk County Women's Business Enterprise Coalition (SCWBEC) is a 501 (c)(3) organization. It was founded by a group of visionary business women Linda Jasper and Sally Ann Slacke in 1990 to assist women in procuring government contracts in order to compete in the construction trade. Its mission has since expanded to promote, encourage and support members through networking, relevant Programs, Workshops and Professional Development Seminars.
Twice a year, the organization presents the $2,000 Linda Jasper/Sally Ann Slacke Award, named for its founders, to a qualified "Active Member."
The organization is member-based and is supported by revenues from its fundraising events and annual Sponsorship Drive. Sponsorships at varying levels are offered to corporations, small businesses, sole proprietors and members in exchange for one year's promotion across all platforms.
Throughout the year, events include seasonal member events, the Annual Business Showcase and the Holiday Event. At the annual Holiday Breakfast, the organization spearheads a Collection Drive for the Northport VA Medical Center.
There are no Membership dues or monthly fees. Monthly Business Presentations and Events are open to all.
For news and details about upcoming SCWBEC Business Presentations and Events, join the mailing list at www.scwbec.org.
For information about SCWBEC or the Event, contact info@scwbec.org (https://webmail04.register.com/promail/src/compose.php?se…).]
Source :
SCWBEC