Travel with The PPBoyz ~ Pol' Atteu and Patrik Simpson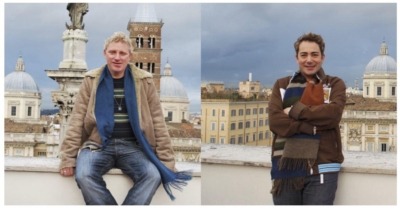 Press Release (ePRNews.com) - BEVERLY HILLS, Calif. - Mar 14, 2017 - 4Chion Lifestyle announces world travelers and authors Pol' Atteu & Patrik Simpson (The PPBoyz) as collaborators with their travel expertise.
Pol' Atteu and Patrik Simpson enjoy traveling and sharing their great finds, food, and insight to great local treasures. Their first travel location is the beautiful city of Rome Italy. Get the insight to the beautiful oranges in the area. The world tours will continue each month with an exclusive from the travelers.
Pol' Atteu a traveler, high fashion designer, Haute Couture Boutique owner in the heart of Beverly Hills, author, and actor. Patrik Simpson a model, television producer, photographer, author, and actor. The couple, engaged to marry, are parents to SnowWhite Simpson-Atteu, one of the most famous puppies in the world. Will bring the best travel adventures to our leisure lifestyle.
Our official hash tag is #4chionStyle. The following hashtags will be used for travel with 4Chion Lifestyle #PPBoyz #BeverlyHills #TravelTuesday & #TravelThursday. Please connect with Pol' Atteu and patrik Simpson here:
Facebook/Twitter/Instagram/Snapchat
PatrikSimpson
PolAtteu
SnowWhite90210
Patrik Simpson
Instagram: https://www.instagram.com/patriksimpson
Twitter: http://twitter.com/patriksimpson
Facebook: http://facebook.com/patriksimpson
IMDB: http://www.imdb.me/patriksimpson
Pol' Atteu
Instagram: https://www.instagram.com/polatteu/ – Polatteu
Twitter: https://twitter.com/polatteu – Pol Atteu
Facebook: https://www.facebook.com/polatteu – Pol Atteu
IMDB: http://www.imdb.com/name/nm2757437/?ref_=fn_al_nm_1 – Pol Atteu
4Chion Lifestyle is your location for beauty, fashion, red carpet, celebrity, and more. 4Chion Lifestyle provides lifestyle worldwide. Our team is dedicated to bringing the highest quality lifestyle for your best styling, fashion, and beauty needs.
4Chion Lifestyle is a division of 4Chion Marketing. 4Chion Marketing is an experienced marketing firm to provide your company with current and updated marketing services. We focus on your business' ability to continue to grow. We are Certified Online Marketing Professionals. 4Chion provides traditional and Internet marketing services.
Contact:
Phone: 480-882-8501
Website: https://4chionmarketing1.wordpress.com/ – 4Chion Lifestyle
Social Media
Instagram
Facebook
Twitter
Google+
Pinterest
Flickr
Tumblr
Source :
4chion Lifestyle