Trust Dental Care: Save Big This Summer: Get Your Dental Work Done in Tijuana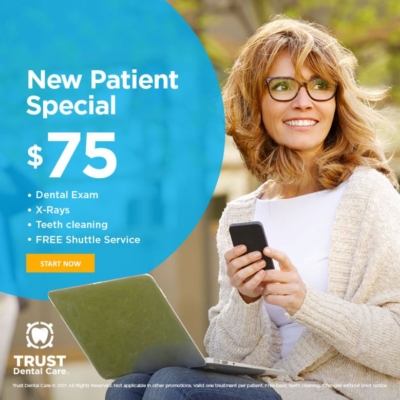 Press Release (ePRNews.com) - TIJUANA, Mexico - Jul 07, 2017 - Dental Care is a pretty big deal, with the way the economy is going and budget cuts on health insurance like Medicare and Medicaid, having healthy teeth has become a tough task. However, a new option in the form of dental tourism has opened a new door to those looking to get dental implants and general healthy teeth.
Some 130 million Americans live without dental insurance, so seeing a Tijuana dentist has become an excellent option to take care of your dental needs at the best price and quality.
Scheduling a root canal or dental implants on vacation might seem odd, but more and more Americans are making appointments with dentists abroad. Particularly in Tijuana, Mexico, this trend has benefit thousands of Americans and Canadians in getting the dental care they need paying up to 75% less than they would normally do. At Trust Dental Care you will get the highest quality in the market at affordable prices while also get the treatment you need by Dr. Cirenia Aparicio Miranda. She is the first and only dentist of Hispanic descent to be accredited by the AACD in all its history – she is a globally acclaimed dental practitioner and the best dentist in Mexico.
It's understandable to be a little worried about visiting a dentist in another country, so we want to help you make an informed decision, after all, we want you to put your trust in us. Here are some things you want to consider before venturing abroad for dental treatment.
As we stated before, at Trust Dental Care you should be able to save up to 75% on the procedure you need while maintaining the quality you'd expect from the highest ranking clinics in the US and Canada. You can always reach us to compare prices.
This summer we have a special promotion that can help you save big this summer on your dental tourism trip. It's called the Trust Dental Care New Patient Special. For only $75 USD, new patients can get:
· Dental Examination
· Full Mouth Dental X-Rays
· Teeth Cleaning
· FREE Shuttle Service
· Hi-Def Intraoral Imagery
Also, our prices have changed for dental crowns. PFM crowns have dropped from $329 to $299, while same-day porcelain crowns changed from $549 to $449. Make the best of these specials and get that beautiful smile back!
Your trust is our primary concern here at Trust Dental Care, and as always we want you to make the smart decision, that means making an informed decision. When you come to us for any of your dental needs we want to make sure you understand you will not only be getting the highest quality and prices in the market for dental implants in Mexico but also have the most efficient, safest and comfortable experience doing so. You've heard from the rest; now it's time you try the Best Dentist in Tijuana, Mexico.
One of our happy clients left this on our Yelp profile:
"I researched dentists in Mexico and found Trust Dental Care, their reviews were great, so I gave them a call and spoke to Giovanni I asked a couple of questions, and he was very knowledgeable.
Once my procedures were over, Luis quickly transported me right back to the pedestrian walkway to come back into the US.
I highly recommend Trust Dental in Tijuana; I will be back soon for more dental work now that I've found this diamond in the rough".
Your experience can also be as good as this. For more information visit https://trustdentalcare.com/ and get your appointment Today!
Source :
Trust Dental Care