Tub Refinishing Costs in Little Rock AR Surface Renew
Surface Renew, the leading bathtub refinishing company in Northwest and Central AR, has released a helpful white paper on tub refinishing costs.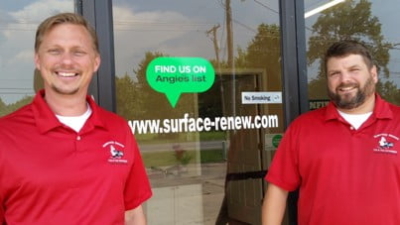 Press Release (ePRNews.com) - Arkansas - Aug 11, 2017 - Surface Renew, the leading bathtub refinishing company in Northwest and Central AR, has released a helpful white paper on tub refinishing costs and other considerations for anyone looking into a tub refinishing project.
According to Bob Kennedy, owner of Surface Renew, tub refinishing is great for instantly refreshing dingy, dull and outdated and even damaged bathtubs in order to avoid the high cost of tub replacement.
Tub refinishing costs vary based on a combination of the following:
• Condition of the tub surface
• Coatings; previous failed DIY attempts at refinishing
• Repairs that need to be made
• Tub refinishing companies pricing structure
• Do-it-yourself cost of materials (not a recommended option)
Pre-refinished Condition of Tub:
Old style, outdated color, dirty, worn appearance, etc. These are easy to deal with from a professional stand point. No matter what the color the refinishing process converts to, the old color will be completely covered up. Prior to refinishing a thorough cleaning and stripping of soils and residues is performed to ensure proper and complete adhesion of the new surface.
Coatings and Paint:
If someone once tried refinishing or painting a tub themselves then that coating must be stripped prior to professional tub refinishing.
Chip and Crack Repairs:
Chips, cracks, scuffs, dings and other things marring the tub surface must be repaired prior to refinishing a tub.
Pricing Structure:
While most competing tub refinishing company costs might be similar, the overall tub refinishing costs will vary amongst each other in add on services (coating stripping, repairs, etc). So while one might charge $300 for a complete tub refinishing another might be upwards to $900. A company's pricing depends on factors such as materials and labor costs, the size of the tub, and whether they include certain services that other tub refinishing companies charge extra for.
Do It Yourself:
Unless you've had previous experience working as a tub refinishing technician then this project is best left to the professionals. The chemicals are very dangerous to one's health if inhaled. The tools required to do the tub refinishing are specialized and hazardous. And most importantly, the tools, materials and chemicals needed are not of a sufficient professional quality when obtained through a big box store such as Home Depot or Lowes. The service is technical and very involved so training prior to attempting tub refinishing is a must! Also it's an extremely physical task so if you are not able to comfortably crouch and bend over in a confined space for up to 4 hours at a time then your best bet is to hire a pro to do tub refinishing for you.
Refinishing Other Tiled Surfaces
Keep in mind that the tub refinishing process also works for bathroom sinks, counter tops, kitchen sinks and kitchen wall tile surfaces.
For example, rather than investing in a whole new bathtub for a home remodel, one can choose a tub refinishing service to update their existing bathtub or other sink and tile surfaces for a fraction of the cost of tub, sink and tile replacement thus saving multiple thousands of dollars in replacement costs.
Refinished surfaces cure in 12 hours or less so resurfaced areas are ready for use quickly. That means little down time for you and your family. "You can have us out to start your job in the morning, and your new looking tile surfaces will be ready to use by night time", Kennedy proudly claimed.
See their helpful tub refinishing video here: https://youtu.be/0IAmmXHiN_s
Kennedy commented that although his Arkansas tub refinishing company Surface Renew is a popular choice among local homeowners, he also works closely with commercial accounts such as apartment buildings, hotels and motels.
"For apartment owners, tub refinishing is a smart option. It creates a new and clean look, allowing a higher rent to be charged and attracting a better quality of renters. The same principle applies to hotels and motels. Clean updated looks attract higher paying renters", he says.
Contact Arkansas tub refinishing company Surface Renew today to schedule an on-site consultation and quote on tub refinishing costs for your tub resurfacing projects. Surface Renew serves central and northwest AR including the following Arkansas cities: Little Rock, North Little Rock, Conway, Ft. Smith, Van Buren, Alma, Benton, Bryant, Fayetteville and Springdale. Call 501-920-9326 in Central Arkansas or 479-226-0703 in Northwest AR. Visit http://surface-renew.com/bathtub-resurfacing-by-surface-renew.
Get a free quote on tub refinishing costs by calling Surface Renew at 501-990-9326 in Central AR or 479-226-0703 in Northwest AR.
For Media Contact:
Company: Surface Renew, Inc.
Arkansas Central Office, Bob Kennedy: 501-920-9326
Arkansas Northwest Office, Ryan Shultz: 479-226-0703
Email: info@surface-renew.com
Web: http://surface-renew.com
Facebook: https://www.facebook.com/SurfaceRenewAR