UltraCrete Takes to the Skies at Weeze Airport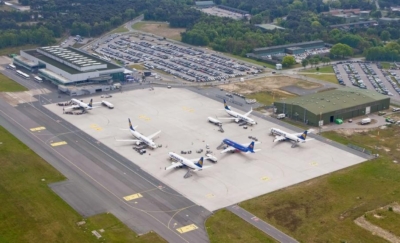 Press Release (ePRNews.com) - TAMWORTH, England - Sep 28, 2016 - Weeze Airport, formerly known as Flughafen Dusseldorf-Niederrhein Airport, is located in the Lower Rhine region of Germany. A former military airbase, Weeze Airport began operations as a civil airport in 2003 and regularly sees 2 million passengers using its services each year.
A number of manhole covers and frames had become damaged on one of the platforms at Weeze Airport and needed urgent attention. Instarmac's partner in the Netherlands, Poltec, provided UltraCrete Envirobed HA104® and QC10 F for these repairs.
As the Netherlands's leading manhole reinstatement specialists, Poltec's contracting division, PST van den Broek, carried out the repairs easily and efficiently thanks to the high performance and rapid setting nature of the UltraCrete materials – ideal for projects where a fast turnaround is essential.
UltraCrete Envirobed HA104® high performance bedding mortar is an environmentally friendly alternative to resin-based mortars and has been specifically formulated for the bedding of all access covers. It boasts superior compressive, tensile and flexural strengths which make it ideal for use in heavily trafficked/wheel track locations, such as this repair at Weeze Airport. What's more, repairs made using Envirobed HA104® can be open to traffic after just 1 hour!
Part of UltraCrete's range of high specification concretes, QC10 F is a rapid setting, fibre modified concrete formulated for the backfilling around manhole frames and gullies. QC10 F has an impressive compressive strength and can be opened to traffic in just 90 minutes.
Both Envirobed HA104® and QC10 F have been independently tested and approved by the Highways Authority Product Approval Scheme (HAPAS) for over 10 years and are proven to provide first time, permanent and durable repairs with a service life of at least 5 years.
For further information on Envirobed HA104®, QC10 F and the other materials that make up UltraCrete's HAPAS Approved Manhole Installation System please email international@instarmac.com or call +44 (0) 1827 871871.
You can contact Poltec by visiting www.poltec.nl or by emailing info@poltec.nl.
Source :
Instarmac Group plc