UNESCO-Pearson Initiative for Literacy Highlights Khushi Baby's Work In Digital Healthcare
Udaipur, Dec 2017, "Khushi Baby" has made medical history wearable for efficient healthcare service. Government and district health officials are also supporting this initiative.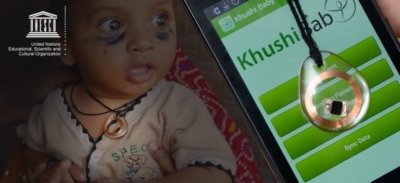 Press Release (ePRNews.com) - Houston - Dec 11, 2017 - We are proud to announce that Mobisoft Infotech's client Khushi Baby has been included in one of the case-studies by UNESCO-Pearson that highlight how digital solutions and technologies help people with low literacy level to improve their livelihood. The concept of wearable technology makes Khushi Baby project an interesting topic-of-discussion among big health-care brands.
Khushi Baby is a platform that lets mothers and babies wear their digital health records as a necklace. It involves a mobile app for the community health workers to easily access the medical records of babies and mothers in the rural areas. These records can be accessed and maintained through the NFC-enabled mobile devices. The mission of Khushi Baby is to monitor the health care of children and mothers at the last mile.
Ruchir Nagar, CEO and Co-founder of Khushi Baby said in an interview that, "our assured promise is that, at the core, our system will be able to work independently of cellular connectivity". He further added "we are currently working on 365 rural villages in Udaipur, India. Next year, we are aiming to 3x this number, which is more than 1000 villages. Our aim is to track the health of 50K-60K mothers and children."
About Khushi Baby:
Founded by Ruchit Nagar in March 2014, Khushi Baby has come up with a creative idea to integrate wearable NFC technology, mobile health and cloud computing for producing a complete platform to bridge the gap between world's child and maternal health. Their goal is to be the digital key, integrating technology with tradition, connecting the last mile to health and social services.
About Mobisoft Infotech:
Mobisoft Infotech, a mobile application development firm, provides the total solution for mobile, web and the cloud and empowering startups throughout the product lifecycle. We have worked with 100+ global tech startups over 7 years, providing mobility solutions and aiming at shaping their technology business. The company has launched more than 100 startup products across the wide variety of different and important verticals.