UrbanPro announces the launch of Playschool and School Search & a Parent Community Website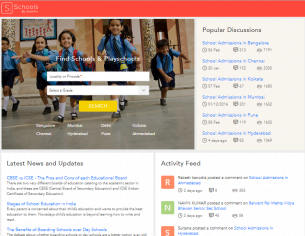 Press Release (ePRNews.com) - BANGALORE, India - Mar 02, 2017 - UrbanPro.com has launched a Schools search & a Parent Community Website called "Schools". This new service aims to cater to millions of parents to find the best Schools and Playschools for their children, within their ideal vicinity.
Bangalore, Karnataka, : Renowned online educational portal UrbanPro.com today announced the launch of a new online website schools.urbanpro.com. The motive behind the creation of this new platform is to assist parents to explore high quality educational institutions within the stipulated budget and vicinity. As the saying goes "It's not about getting kids ready for school, it's about getting them the right start."
Schools website allows parents to do School search and find detailed information about the various schools, the pro and the cons, and to skip the long process of navigating the various search engines in WWW. This website is not only a great resource for parents to find schools, but also for interacting with other parents going through the difficult decision to find the right school for their child.
Commenting on the launch, Rakesh Kalra, Founder & CEO, UrbanPro.com says, "The launch of the school website is UrbanPro's yet another step towards constantly improving its product-line and added value for its customers (students & parents) by helping them make informed choices to fulfill their educational needs."
Schools – A school website launched by UrbanPro.com
The prominent feature of this one-stop-shop includes, Schools search, Discussions on School Admissions; which allow parents to get relevant data on school admission, Latest News and Updates section, Articles section and an Activity Feed. The website is favorably operating in 8 cosmopolitan cities including Bangalore, Ahmadabad, Chennai, Delhi, Hyderabad, Kolkata, Mumbai and Pune.
Visit https://schools.urbanpro.com for further information.
About UrbanPro:
UrbanPro.com is India's largest online destination for discovering Best Education in India. On UrbanPro.com, students can find skilled Tutors and Training Institutes that meet their learning requirement within their budget and preferred locality. Learning providers on the other hand can find Students for the classes they conduct, for the price that works for them and grow their earnings. With a presence in all major cities across India and over 1.6 million visits a month, UrbanPro.com today is the largest marketplace in the education vertical in India.
Visit https://www.urbanpro.com/ for further information on UrbanPro.
Press Contact
Rachna Lunia – +91-8904779882, rachna@urbanpro.com
Source :
UrbanPro

Business Info :
UrbanPro
15, 2nd floor, Bannerghatta Road, 3rd phase, J.P Nagar,
Bangalore, Karnataka - 560076 India
Phone: +91 8197436496
Website:
http://www.urbanpro.com/