UWI's Medini Wins Global Sustainable and Smart City Awards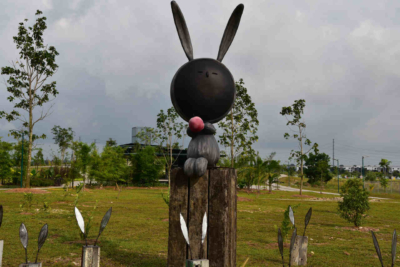 Press Release (ePRNews.com) - Dubai, UAE - Aug 29, 2017 - Dubai-based United World Infrastructure's flagship project, Medini, an integrated urban township development built to accommodate over 400,000 residents in the Iskandar region of Malaysia, has won two acclaimed awards for its commitment to sustainability and smart infrastructure. Medini was awarded the 'Green Champion of Emerging Green City' and 'Green Champion of Smart and Green Infrastructure: Greenfield Development' awards from the Institute of Parks and Recreation Singapore (IPRS) and World Urban Parks.
The development was recognized for its commitment to creating an urban environment that has balanced a connected, smart city experience with the natural environment. Medini was praised for its emphasis on sustainability, excellent transport network, and accounting for the needs of its citizens and promoting their happiness.
 "We have reached an inflection point in the global dialogue on urbanization, one that we believe requires a collective response and moves our cities closer to delivering value to citizens, governments and investors in a way that is balanced with our resource and environmental challenges,"

said Vafa Valapour, Principal at UWI.

"We are proud to have collaborated with the government of Malaysia, Khazanah Nasional, and Mitsui to establish this blueprint for sustainable urbanization and a model for the way in which future cities can be designed, built and managed."

he continued.
"This early project, inspired by our learnings in the UAE, is a benchmark for sustainable development all over the world. Medini's development is driven by a desire to create a thriving urban ecology – a highly livable and economically sustainable, urban space integrated into the natural surroundings. With mounting interest in happiness and sustainability, we see opportunities for Medini to influence city design and management," concluded Valapour, "we are thrilled that Medini has been recognized in this way."
The awards were presented at the World Urban Parks Asia Pacific Region Congress and IPRS International Greenery, Recreation, Infrastructure and Parks Conference that took place in Singapore recently. The IPRS is a professional body dedicated to the conservation and enhancement of Singapore's parks and other recreational facilities. Medini is the product of Medini Iskandar Malaysia Sdn Bhd (MIM), public-private partnership between Malaysian Government Linked Companies (GLCs) and private investors including Khazanah Nasional Berhad (KNB), UWI, and Mitsui & Co., Ltd.
"We are focused on creating a very attractive and livable environment for our residents and visitors in Medini, which supports overall happiness and wellbeing. Our sustainable practices – such as smart building operations and city management services – contribute towards a healthy environment that entices residents, workers, and visitors alike to enjoy Medini's parks, bike paths and extensive walkways," said Dr. James Tee, MIM Managing Director / Chief Executive Officer.
"MIM's founding investors and shareholders envisioned a Next Generation City inspired by their collective experience in urban innovation and sustainable practices from around the world. We thank them for their esteemed guidance in these areas and we will continue to work towards that grand vision through new initiatives at each phase of Medini's development," he continued.
Malaysia's largest urban development, Medini is a 2,230-acre integrated urban township development located in the heart of Iskandar Puteri, Iskandar Malaysia. Medini is divided into six zones that are planned in a way that will maximize benefits from both residential and commercial projects, constantly evolving through community participation, and pushing users to share ideas for innovation. Medini is entirely connected to the web, and is monitored and managed through a smart command center.
As much as 342 acres have been designated as open space and public parks in Medini. The Edible Park and Heritage Forest are two out of 46 parks in Medini. The Edible Park that promotes sustainable farming includes local fruit, vegetable and medicinal trees, while its Heritage Forest features flora unique to the Johor region in Malaysia. Commercial buildings such as Medini 9 and Medini 10 feature the latest smart building systems, including occupancy sensors and photovoltaic solar panel.
ABOUT UWI:
Operating globally, United World Infrastructure (UWI) invests in the acquisition, development, and management of real-estate and infrastructure assets to stimulate economic growth, technology transfer, and foreign direct investment. Committed to people-centric communities, UWI transforms underutilized land into real-estate assets that attract development catalysts such as theme parks, hospitals, and schools. Its infrastructure assets for new cities include: road networks, water and drainage systems, sewage systems, electricity, telecom networks, and systems for renewable energy and recycling to ensure environmental sustainability. UWI's financial products, including yield-driven development models and infrastructure and commercial concessions, optimize returns to city investors. Recently, UWI began offering advisory services to governments and government-linked entities to advance the development of happier cities through measurement and targeted policy, infrastructure, and service recommendations.