VideoHunter Launched the Brand-New YouTube Downloader with Brilliant Functionality
Last month, VideoHunter launched the brand-new desktop software, VideoHunter YouTube Downloader, to boost more efficient and high-quality YouTube video downloads to global users.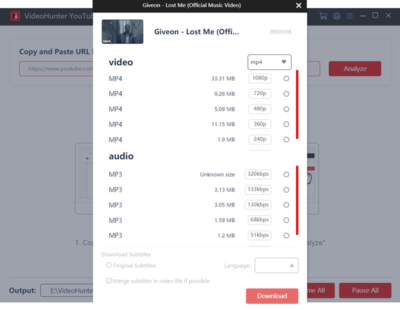 Press Release (ePRNews.com) - Washington, DC - Aug 12, 2022 - VideoHunter, the leading video downloader on the market, has newly- released the YouTube Downloader, enabling users to target at grasping the best way to download YouTube videos offline. Unlike VideoHunter, which gives access to download all videos/audios from 1,000+ online sites, the brand-new YouTube Downloader will specialize in high-quality YouTube content download, helping to get rid of the online YouTube video streaming issues, to collect the online content offline at a more affordable cost.
Highlighted Features of VideoHunter YouTube Downloader
#1. All Types of YouTube Content Download Available

VideoHunter YouTube Downloader is compatible with almost all types of YouTube content, and is available to process the download powerfully. From single videos, playlists, to channels, the software is able to process downloading the items with speedy performance.
#2. Compatible with YouTube Private and Unlisted Videos

In addition to the public videos, VideoHunter YouTube Downloader is also supported downloading invisible content, such as private and unlisted videos as personal collections offline. Only by grasping the URLs, the software is able to perform the conversion and avails you to download by providing optional output choices for free selection.
#3. High-Quality Preservation

To maintain the same quality streaming experience offline, VideoHunter YouTube Downloader is able to detect the original resolutions and provide the same options for users to download YouTube videos offline. From HD 720p, 1080p, to 2K, 4K, and even 8K, it will all grasp and offers the download options to you. In addition, for YouTube music, it would also preserve the highest 320kbps audio quality, which highly guarantees enjoyable music playback offline, too.
#4. Mainstream Output Formats Available

To ensure the high compatibility of downloaded YouTube content, VideoHunter YouTube Downloader provides the most mainstream video as well as audio formats to ensure playback on all devices and media players. Users are able to download YouTube content in MP3 (audio) and MP4 (video) based on personal requirements.
#5. Merge Subtitles with Videos While Downloading

For YouTube videos with subtitles, VideoHunter YouTube Downloader is able to detect and avails the merging functionality to integrate with the videos while processing the download. Users are able to grasp the downloaded YouTube videos with subtitles merged, thus enabling more convenient video playback offline.
#6. Bypass Regional Restrictions to Download All YouTube Videos

VideoHunter YouTube Downloader provides a built-in proxy setting, which is able to bypass all the regional restrictions . Hence, users are able to grasp all YouTube videos, even for those restricted videos that are limited to certain areas for streaming online.
Other Great Benefits of VideoHunter YouTube Downloader:

• Lightweight software takes up low CPU;
• Intuitive interface design with easy-to-grasp functionality;
• 6X faster speed to batch process YouTube videos download;
• 24/7 customer support to help resolve any instant issue while using the software.
VideoHunter YouTube Downloader Is Free to Try!

Another highlight of VideoHunter YouTube Downloader should be its free version. Only by registering an account, users are able to grasp the daily quota to download YouTube videos free without paying a penny! Now, freely install the software on Windows/Mac right away!
About VideoHunter

VideoHunter offers leading free video downloaders, accompanied by high compatibility to download online videos with high quality and efficiency. It is also equipped with a professional technical team to enhance the software user experience, for bringing better services to users in the future. For more information, reach VideoHunter official website to learn about it now.
Contact person: Wilson Kendal
Company: VideoHunter
Address: Hong Kong
Email:support@videohunter.com