VP and Director Sues Council of Better Business Bureaus (CBBB) in Federal Court for Punitive Damages
No gold watch or retirement plaque for two-time emmy award-winner, former vp of the council of better business bureaus and children's advertising review unit director, wayne j. Keeley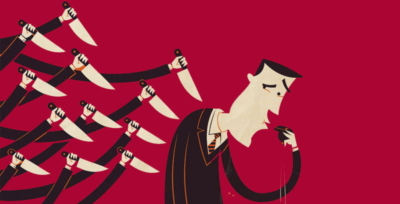 Press Release (ePRNews.com) - DANBURY, Conn. - Aug 30, 2017 - – Wayne J. Keeley opened his email after an extended absence via the Family Medical Leave Act (FMLA) from the Council of Better Business Bureaus (CBBB) to learn that he had been abruptly terminated without advanced notice nor discussion or negotiation with him or his doctors. While he cannot go into any of the details because of pending legal action, Keeley v The Council Of Better Business Bureaus in the United States District Court for the District of Connecticut (https://dockets.justia.com/docket/connecticut/ctdce/3:2017cv01334/119472), he says that he was very disappointed in the way things had been handled. "When you have given your blood, sweat, and tears to a company for nearly two decades, you expect that you've earned a certain level of treatment and an equally certain degree of respect, especially when you are talking about a company whose motto is 'Start with Trust'." Needless to say, the impact is hard-hitting as Mr. Keeley was the main source of income for his blended family of nine including his oldest son, Wyatt, who now has advanced-stage Duchenne muscular dystrophy, is confined to a wheelchair, and requires 24/7 care.
Mr. Keeley, a four-time Emmy Award-nominated producer and writer, two-time winner, media attorney, and former litigator came to work at the National Advertising Division (NAD) of the CBBB after the dot com bust in 1999 and the virtual evisceration of independent media companies. "For me, it was either sell out to a big company and move out or stay in New York and struggle. Fortunately, I came across NAD which was a perfect fit for my skill set as the position entailed reviewing and analyzing media, face-to-face contact with creatives and marketers, and writing comprehensive legal decisions." While at NAD, Mr. Keeley wrote and published over 100 decisions and was promoted to Assistant Director of Outreach because of his excellent interpersonal skills.
In 2007, he was appointed Director of the Children's Advertising Review Unit (CARU) and later, because of his accomplishments, was promoted to Vice President of the CBBB by then CEO, Steve Cole. Mr. Keeley introduced CARU to social media, bringing it to the 21st Century through exposure on Wikipedia, Twitter, and Facebook. He also started CARU's blog. He implemented CARU's annual conference on the East Coast and later on the West Coast. He further increased CARU's visibility by increasing supportership and producing two public service campaigns about children's internet safety, one of which was nominated for an Emmy Award. Mr. Keeley was a sought-after speaker and spoke at numerous conferences. At CARU, he managed a staff of six, most of whom were attorneys. He is well-liked in the industry and received many commendations both inter- and intra-organizationally.
Other than looking into his legal options at this time, as well as advocating for people with "invisible" disabilities, Mr. Keeley plans to write about his experiences working in self-regulation over the last two decades. Several agents and publishers already have expressed interest. Asked if it will be a down-and-dirty tell-all exposé, Mr. Keeley smiles and says, "Let's just say it will be an eye-opener for some and a jaw-dropper for others."
And finally, Mr. Keeley's wife, Stephanie, has started a GoFundMe page for which funds will be allocated to the family's legal action against the CBBB; establishing a non-profit to assist others who face similar workplace discrimination due to invisible disabilities; and lastly, a small cushion for the family to help get through this difficult time. Read more about the crowd funding effort and donate here: https://www.gofundme.com/wkeeley-CBBB-davidvsgoliath
Source :
Wayne J. Keeley