What I've Seen by Andrea Zahurancova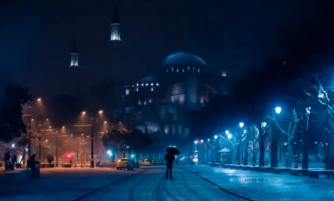 Press Release (ePRNews.com) - Jul 13, 2016 - About:
"What I've seen" documentary series visually portray the impression a country left on me
Just like every weekend, I am sitting in a tent on a summit of the highest mountain range in my home country. I am preparing tea, trying to warm up. It is about -10 C. The only thing I hear is the wind. When it slows down, I hear my camera shooting a 3 hour-long timelapse. I have plenty of time to think. I am delving into my thoughts. Why not to experience something new? Why not to visit new places? The dream of my childhood comes to my mind – the Faroe Islands and Scotland. And to shoot next episode of the "What I've seen" documentary series.
The aim of the "What I've seen" documentary is to visually and dynamically portray the impression a particular country has left on me. Each country is specific and it is exactly these specifications I want to pinpoint in the videos. The video is not about me as a traveler, it is about a country. It magnifies the atmosphere and the image of a country.
The next episode, this time from the Faroe Islands and Scotland, will be presented on numerous film and travel festivals all around the world, just like the episode from India is being presented at the moment. From the material collected from various countries, I also plan to create a full-length "What I've seen" document.
Why US?
We will be sleeping exclusively in a tent, because it offers you what cannot be experienced anywhere else. Thanks to a tent, you can see breathtaking sunrises on the most beautiful places and experience unforgettable atmosphere.
We are not spoiled and we dare to face any conditions:
We also persistent and willing to wait for the perfect shot – no matter what:
We are provided with full technical, traveling and expedition equipment:
We will eat modestly, perhaps even less:
With Just 12 days left in this campaign, your support is urgently needed! Please look at all the rewards they have for those who make a contribution. Please consider getting involved, at whatever level you can, and help "What I've Seen" get funded!
We need your help:
If you can't afford to donate, don't worry – there are plenty of other ways you can help. Please take some time to share our campaign across your social networks and encourage your friends and family to donate.
For more information, contact us on: andreazahurancova@gmail.com
Link to the project: https://www.indiegogo.com/projects/what-i-ve-seen–2#/
Source :
What I've Seen