2 Unite All album brings Peter Gabriel, Roger Waters, Stewart Copeland to support the Gaza crisis
Archbishop Desmond Tutu, Noam Chomsky, Film Director Oliver Stone, Bethlehem Mayor Vera Baboun, Palestinian Entrepreneur Sam Bahour and famed soccer player Alaa Ismail voice their support of the 2 Unite All Gaza and Middle East Peace benefit album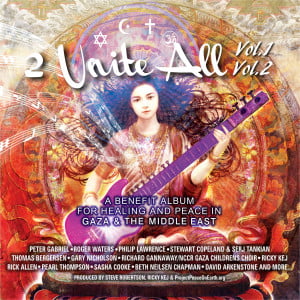 Press Release (ePRNews.com) - LOS ANGELES - Jul 24, 2017 - The humanitarian crisis in Gaza is at a critical point with Israel limiting electricity to 2 hours a day and the desperate cascading effect this has on hospitals being able to operate and deliver basic care to newborn infants, the sick and the elderly. Water is also in short supply as pumping stations, which depend on electricity to operate, cannot deliver water. The punishing effects of Israel's apartheid-like control over Gaza's basic human rights which leaves families with an inability to refrigerate food has also brought the economy within the region to a demoralizing 60% unemployment. "The situation in Gaza is beyond desperate" states Steve Robertson, producer of the 2UniteAll album and founder of Project Peace On Earth (PPoE). He continues saying, "Its imperative that each of us act now to support this desperate human rights crisis in Gaza. This is our effort to do so and each song purchase will help."
Philip Lawrence of Bruno Mars wrote the original song "Begin Again" that is featured amongst 30 songs on the 2 Unite All's volumes 1 & 2 albums. Also featured are music legends: Peter Gabriel, Roger Waters, Stewart Copeland (The Police), Serj Tankian (System of a Down), Thomas Bergersen (2 Billion Youtube hits), Sasha Cooke (Opera Grammy Winner), Gary Nicholson (Country Grammy Winner), Beth Nielsen Chapman, Rick Allen (Def Leppard), Ricky Kej and Wouter Kellerman (New Age Grammy Winners) and more. Proceeds go to Palestinian and Middle East relief agencies supported by Project Peace on Earth (PPoE), a US based humanitarian organization. The aim of the movement is to unite people who are separated by conflict and prejudice through the healing power of music. Beneficiaries of the album include: Palestine Children Relief Fund, Friends of UNRWA USA, National Centre for Community Rehabilitation (NCCR) in Gaza and Project Peace On Earth.
Peter Gabriel contributed his song "Across the River" and says of his decision to participate: "Although I am sure both the Palestinian and Israeli people would benefit enormously from a just and fair two-state agreement based around the '67 borders, we have watched the Palestinians subjected to more and more suffering for far too long, especially in Gaza. Meanwhile their long held land is repeatedly stolen by force for illegal settlements. I am not and have never been anti-Israeli or anti-Semitic; I am anti-Israeli government policy, anti-injustice, anti-oppression and anti-occupation. There is clearly a growing movement around the world willing to speak out, including my own country's Parliament. I am happy to be one of these voices now asking the Israeli government, 'Where is that two state solution you have so long said you wanted?' and more simply, saying, 'Enough.'"
Roger Waters was moved to support the initiative with his song "Each Small Candle" and stated: "The story of the little girl Shymaa in Gaza who lost her entire family, sparked the idea for the 2 Unite All benefit album for Gaza, Palestine and Middle East Peace. It is a story that is far too familiar. In Gaza 1.6 million people, adults and children alike live in what is essentially an open-air prison. They have no control over their borders, airspace or coastal waters. They live under the constant threat of attack from their heavily armed and hostile neighbor Israel. There is a movement in Global Civil Society to protest their intolerable situation, a movement which I wholeheartedly support. I have given my song "Each Small Candle" in support of the important Project Peace On Earth album in the hope that, along with all the other songs donated by concerned artists, it will help to shed light on the plight of the Palestinian people, and encourage progress towards equal rights, justice and freedom for all the peoples of this Middle Eastern region regardless of ethnicity or religion."
After producing volume one and a seven-month search process Robertson found the little girl named Shymaa who sparked the album project through the Gaza based National Centre of Community Rehabilitation (NCCR). The organization specializes in supporting and empowering children to have a normal childhood after being injured and/or traumatized during military invasions. Robertson had an idea to produce a song and video with children from the NCCR and Shymaa so he immediately reached out to Richard Gannaway of AO Music, a PPoE Music Ambassador. The result was the formation of the Gaza Children's Choir and their performance and filming of Gannaway's song "Haumea." The music video, edited by filmmaker Fritz Heede, recently won the GlobalPeaceSongAward.com contest for best music video. The song also serves as the promotional anthem for PPoE's and the NCCR's new campaign called "Love All Love Wins / UDHR (the UN's, Universal Declaration of Human Rights)."
Philip Lawrence (Bruno Mars) who contributed his original song "Begin Again" said he wanted to participate because: "Throughout my life I've been blessed in so many ways but most humbly through the gift of my children. I live to protect, teach and love them unconditionally so they can then share that life experience wherever they go. Knowing there are children and families in the world who have experience lives of pain, trauma, violence, injustice and feelings that they've been forgotten simply breaks my heart and should never be tolerated. I wanted to be part of this album to use my God given gifts to give these children and families some peace even if only for a moment. In the end we are all one family and those are all my children, brothers and my sisters.
Stewart Copeland (The Police) said he participated because: "Our music may not be able to rebuild homes nor bring back victims of violence, but at least it can soften hearts. Hard hearts allow violence in the Holy Land and softening up allows persuasion. Even the most flinty realpolitik analysis shows that 'Kumbaya' is more credible than 'They Must Go.'"
Serj Tankian of System of a Down also supported the album and added that: "Helping to rebuild the lives of Palestinians in Gaza is a necessary and noble worldwide humanitarian prerogative that we must not shy away from. It's the least we can do for a people that have suffered under an occupation, embargo, and invasion."
Steve Robertson, CEO of PPoE concludes saying: "I'm so deeply grateful to each of the artists involved with the 2 Unite All album for bringing their musical genius and loving courage to stand for human rights in Gaza, Peace in the Middle East and our world."
Interviews can be arranged with select Artists and Steve Robertson. PRESS PAGE: 2uniteall.com/press-page
VIDEO: Haumea "We Are The Ones" – Gaza Children's Choir Video
CONTACT: press@projectpeaceonearth.org or 2UniteAll@gmail.com
+1 310.871.2965
Source :
Project Peace On Earth