25 year Toastmaster honoured for helping thousands become more effective communicators and leaders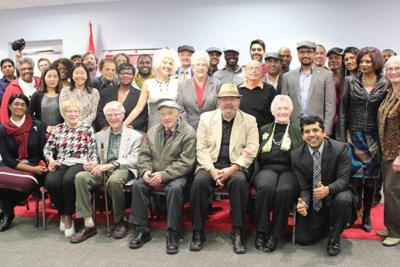 Press Release (ePRNews.com) - BRAMPTON, Ontario - Mar 14, 2017 - In a touching series of stories Ron Kosciolek explained why he shows up every Tuesday to Toastmasters. It is for the membership, as at any moment a member can take a step in the Toastmaster program that could forever change their life trajectory. Ron is front and centre at most every meeting so as not to miss the opportunity of seeing a personal transformation.
"Ron fondly talks of his first speech when his knees knocked so loud he could not hear himself speak." – recalls 10 year member and past club President Dennis Bartel, ACG, ALB. Mr. Bartel continues – "Ron has served the club twice as president and has mentored presidents and other club officers. Outside the club in many organizations, Ron has been part of speechcrafts, 8 week Toastmasters programs, as a coordinator, mentor, and advisor. Many have benefited from Ron's feedback and support."
On February 21st Hershaw Toastmasters celebrated his 25th Anniversary of being a member of Hershaw Toastmasters located in Brampton, Ontario. Mr. Kosciolek, the longest standing Hershaw member, joined in 1992, and after all these years he looks upon his commitment to Toastmasters and it's members with fondness. In recognition the club held a themed meeting "Beards and Brawn" orchestrated in his honour. The membership wore stylish flat caps, just as Ron does, and had our very own Marilyn Monroe sing him Happy Anniversary.
His friends gently roasted him in speeches especially crafted for him as we know there is nothing more that Ron appreciates than humor. Among our other special guests – Isabel Hershaw, Club Founder, and her husband Bill along with Vitaliy Fursov, District Director District 86 presented Ron with a certificate of accomplishment from the City of Brampton and the much sought after Golden Gavel paper weight. By the end of this beautiful celebration you may wonder how exactly does Hershaw Toastmasters feel about Ron? Fellow member Lyndsy Johnson sums up the members consensus "To our dear friend, mentor and fellow Toastmaster – Happy 25th Anniversary! Thank you for making our club strong, fun and memorable and for sharing with us your time, care and efforts".
About Toastmasters District 86
Toastmasters District 86 represents the heartland of Ontario comprising of 238 community and corporate clubs, with over 5,000 members, from Sault Ste Marie in the north to Welland in the south, from Sarnia in the west to Markham in the east – and all communities in between – except Toronto. To learn more about District 86 please visit: http://www.toastmasters86.org/
About Toastmasters International
Toastmasters International is a worldwide non-profit educational organization that empowers individuals to become more effective communicators and leaders. Headquartered in Rancho Santa Margarita, California, the organization's membership exceeds 345,000 in more than 15,900 clubs in 142 countries. Since 1924, Toastmasters International has helped people from diverse backgrounds become more confident speakers, communicators and leaders. For information about local Toastmasters clubs, please visit toastmasters.org. Follow @Toastmasters on Twitter.
Source :
District 86 Toastmasters