AccorHotels launches Clear Your Plate campaign in Greater China
Month-long activity to reduce food waste in Sofitel Macau At Ponte 16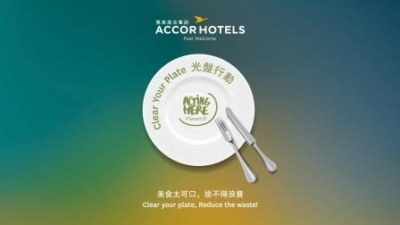 Press Release (ePRNews.com) - MACAO, Macao - May 25, 2017 - AccorHotels announces the launch of Clear Your Plate campaign in Greater China. The aim is to raise awareness of the need to reduce food waste among all stakeholders from guests to staff encouraging Clear Your Plate, Reduce the Waste. The one-month campaign runs from April 21 to May 19.
This campaign is in line with the direction of PLANET 21, AccorHotels' global sustainable development programme launched in 2011. The second phase (2016-2020) of the PLANET 21 programme covers four action areas involving employees, customers, partners and local communities, with the priority on food & beverage. By the year 2020, the group aims to reduce food waste in all of its restaurants by 30%.
Sofitel Macau At Ponte 16 fully supports the campaign. Mistral Restaurant is an all-day-dining restaurant located on the 6th floor in the hotel, it also serves buffet throughout breakfast, lunch and dinner time. The buffet is very popular among the region but at the same time it also generates relatively more food wastage compared with the other restaurants in the hotel. To disseminate the message about food saving, table stands and flyers with message of "Clear Your Plate" campaign are placed on each table, as well as the buffet line to remind the guests to "only get what they want" and cherish food, so as to help protecting the environment. The restaurant staffs are also happy to introduce "Clear Your Plate" campaign to the guests and explain the expected results that the hotel would like to achieve with the campaign. For external communications, the hotel published news and updates about "Clear Your Plate" campaign on all social media platforms in a weekly basis so as to spread the words about cherishing food and let our guests know how the group care and support about protecting the environment, also wish to invite more guests to participate the campaign through promoting on social media platforms.
On the other hand, for internal communications, the Talent & Culture department also actively promotes the campaign through quarterly Ambassador Meeting, bulletin board as well as department WeChat account to let the staff know more details about the campaign and the importance of their supporting. Besides, ambassadors of Sofitel Macau also actively participate into different social responsible activities such as Tree Planting, Beach cleaning, etc. to help protecting the environment. In the coming months, the hotel will continue to participate in social responsible activities to contribute to the public.
*****
Editor's note
Sofitel Macau At Ponte 16 – Positioned on Macau's picturesque waterfront, in the centre of the charming historic quarter, with a walking distance to the UNESCO world heritage sites, inside the entertainment complex of Ponte 16, Sofitel Macau delivers a glamorous mix of classic and modern styles with its surrounding.
Mistral – seating 188, all day dining restaurant serving fusion menu and buffet offering of local Chinese and international cuisine with French influences, with Macau's most picturesque alfresco setting, Mistral restaurant is the perfect place for a relaxing and pleasurable dining experience. Buffets to à la carte, opens from 7am to 10pm daily.
Privé – seating 24, an upscale boutique French restaurant serving exceptional menus include a variety of seasonal à la carte dishes which are enhanced by a selection of tasting menus. Privé offers spectacular views of the old city and the historic sites of Macau, with an intimate space that allows for exceptional private dining. It opens 5 days a week Tuesday through Saturday from 6pm to 10pm.
Le Chinois – seating 148, Le Chinois overlooks the Macau inner harbor with panoramic views of the city skyline and its fascinating river bank from the top floor of Sofitel Macau at Ponte 16. Authentic Cantonese fare gains extra appeal thanks to stylish French-inspired presentation. Tradition meets the present day in Chef Mok's interpretation of Cantonese classics. Exquisite dim sum is a special attraction at lunch time.Le Chinois opens from 9am to 3pm for dim sum breakfast and lunch, and 5:30pm to 10pm for dinner daily.
RendezVous – seating 43, a relaxed and chic environment with an array of fine scotches, infused vodkas and an international wine list. Rendezvous also provides premium afternoon tea sets with Tea Ritual by Sofitel, opens from 8am to 10pm daily.
So SPA with L'OCCITANE – This cocooning, feel-good space is dedicated to wellbeing and relaxation. Spend time in the innovative multi-sensory shower, feel the benefit from traditional Asian treatments or wet and dry Hammam treatments from the Middle East. The latest modern French cosmetology techniques are all part of the So SPA experience. Open from 10am to 11pm daily.
So FIT – It reflects the simple concept with the basic black décor enlivened by accents of lime green, incorporating personalized music selection and plasma screen as well as inspiring views of fresh greenery landscape and the outdoor swimming pool. State-of-the-art facilities include cardio and strength-training equipment, free weights and wellness exercise room, sauna and steam facilities and relaxing area. It opens from 6am to 10pm daily (24h access for hotel guests).
Swimming Pools – Set amidst gently waving palm trees and lush landscaping, the free-form main pool and terrace form an attractive venue for leisure hours. Guests staying at the exclusive Mansion at Sofitel have their own hideaway pool, a beautifully landscaped private oasis.
The Mansion At Sofitel – The magnificent Mansion at Sofitel offers the ultimate in style, elegance and personal comfort. With different design themes, the 19 units of mansion provide the finest in-room technology for convenience and peace of mind when traveling.
Discover Sofitel Macau on www.sofitelmacau.com (http://www.sofitelmacau.com/)
*****
Images on request
Source :
Sofitel Macau At Ponte 16