Animation Wizard to Appear at Oz Convention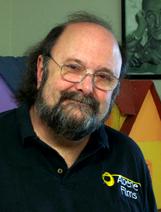 Press Release (ePRNews.com) - PORTLAND, Ore. - May 08, 2017 - Animator Doug Aberle will be a special guest at OzCon International in Portland, Oregon, to be held June 30 to July 2, 2017. Aberle is the co-owner and director of Aberle Films, based in Battle Ground, Washington.
Aberle worked on the 1985 Disney feature film Return to Oz, nominated for an Oscar for its visual effects. He helped create those effects as a clay animator with Will Vinton Studios. Aberle animated the sequence of Return to Oz that featured the destruction of the film's villain, the Nome King. "I killed the Nome King!" Aberle claims.
His experiences on Return to Oz are among the memories he'll share with the attendees of OzCon International. At the three-day event Wizard of Oz enthusiasts from around the world will share their love for Oz books, movies, plays, and all forms of the fantasy world created by Oz-author L. Frank Baum. Aberle will speak to convention attendees on the evening of Saturday, July 1, at the Sheraton Portland Airport Hotel on NE Airport Way in Portland.
Aberle has been making films almost as long as he can remember. As a teenager he gathered family and friends to create his cinematic epics using an old wind-up 8mm film camera bought at a thrift store. During his college years at Oregon State University, Aberle practically lived in the theatre department. He pushed the technology of the tiny campus television station to its limits, producing his own science fiction TV series.
In 1983 he joined Will Vinton Studios in Portland, Oregon. He started out assisting with commercial projects while most of the other animators shot the stop-motion feature film The Adventures of Mark Twain. Eventually Aberle joined the work on that film and animated most of the "mud people" sequence. The rest of his nearly eighteen years at Will Vinton Studios saw Doug taking on a variety of projects. These ranged from music videos to theme park projects, from the Emmy award-nominated TV series Gary and Mike to numerous television commercials, including the California Raisins.
In 1996 he co-founded television and motion picture production company Aberle Films with his wife Katherine, an award-winning author. Aberle Films specializes in both computer and stop-motion animation. One animated short film he created for Aberle Films, Fluffy, about the frantic antics of a computer-animated dog, won numerous awards at film festivals around the world.
More recently, Doug has directed three feature-length films created with computer graphics. His developing projects include a new television series, Raveled, a futuristic comedy where the Earth is defended by sock puppets.
For more information and to register for OzCon see the website at http://www.ozconinternational.com
OzCon International was founded in 1964 as The West Coast Oz Convention by four southern Californians: Blake Maxam, Judy Pike, C. Warren Hollister, and Peter Hanff, as a west coast gathering of members of the International Wizard of Oz Club. That first convention was held at the home of nineteen-year-old Peter Hanff. It was a one-day affair, but proved popular, with more than eighty registrants showing up from not just the west coast, but from across the USA. Eventually the West Coast Oz Convention would expand beyond the USA and the Oz Club to become a truly international convention. Today OzCon International welcomes Oz enthusiasts of all stripes and interests from around the world. It is the longest-running annual Oz event, and regularly features authors, actors, scholars, researchers, and Oz experts of all sorts, who share their knowledge and love of Oz with attendees
Source :
OzCon International

Business Info :
OzCon International
United States