Asian Youth Center Awarded $5,000 From Royal Business Bank
The grant will fund employment services for low-income youth in Los Angeles County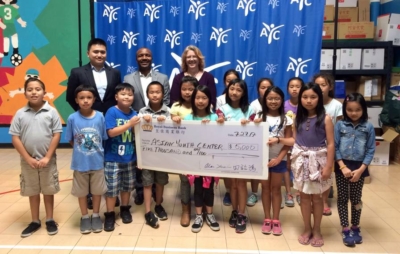 Press Release (ePRNews.com) - SAN GABRIEL, Calif. - Aug 07, 2017 - Last week, the Asian Youth Center (AYC) a non-profit organization dedicated to empowering low-income, immigrant and at-risk youth through education, employment, and social services, received a $5,000 grant from Royal Business Ban.
The $5,000 check for AYC's Youth Employment Services was presented by Yves Mombeleur, Director of Community Lending/CRA Officer of Royal Business Bank and Larry Pang, Analyst. Michelle Freridge, AYC Executive Director, accepted the check on behalf of AYC along with students from AYC's ACE Summer Program.
"AYC deeply appreciates the $5,000 grant from Royal Business Bank for employment services for low-income youth." said Michelle Freridge, Executive Director of AYC. "Last fiscal year, AYC served over 682 unduplicated individuals with employment services. We strive to serve more youth and serve them better each year, and this grant from Royal Business Bank will help us achieve that."
###
About Asian Youth Center
Founded in 1989, the Asian Youth Center (AYC) exists to empower low-income, immigrant, and at-risk youth and families, of all communities, to overcome barriers to success through the provision of culturally and linguistically competent education, employment, and social services. We help youth succeed in school, at work, and in life! For further questions, please contact AYC's office at (626) 309-0425. Written inquiries may be sent to 100 West Clary Ave., San Gabriel, CA 91776 and emails may be directed to admin@asianyouthcenter.org. For additional information, please visit http://www.asianyouthcenter.org. AYC is a 501(c)(3) organization, EIN #33-0383691.
About Royal Business Bank
RBB Bancorp is the holding company for Royal Business Bank, which is headquartered in Los Angeles, California. Royal Business Bank, a wholly-owned subsidiary of RBB Bancorp, is a California chartered, FDIC insured, minority owned community bank serving the Asian business communities in and around the Los Angeles and Ventura Counties of California and Las Vegas, Nevada. Royal Business Bank was formed in November 2008 and currently operates sixteen branches located in Arcadia, Alhambra, downtown Los Angeles, Buena Park, Cerritos, City of Industry, Diamond Bar, Monterey Park, Oxnard, Rowland Heights, San Gabriel, Silverlake, Torrance, West Los Angeles, and Westlake Village California; a branch in Las Vegas; and a loan production office in the City of Industry, California. Although the Bank serves all ethnicities, its Board and management team is mostly Chinese-American and the primary marketing focus has been on the Chinese-American communities. Royal Business Bank's business is focused on trade finance, commercial and industrial mortgage and SBA lending with a long-term vision of serving the Asian communities throughout the Western United States. Additional information on Royal Business Bank may be found on its web site: http://www.royalbusinessbankusa.com.
Source :
Asian Youth Center

Business Info :
Asian Youth Center (AYC)
100 W. Clary Ave
SAN GABRIEL, California - 91776 United States
Phone: 6263090425
Website:
http://asianyouthcenter.org