Bayview Hill Neighborhood Association Reminds The Community to Attend the Gateway Project Meeting
San Francisco Supervisor Malia Cohen will host a community meeting in District 10 to ask for input on the Gateway Project. It will yield newly designed entrances into the Bayview Neighborhood. BHNA calls all neighbors to attend Monday's meeting.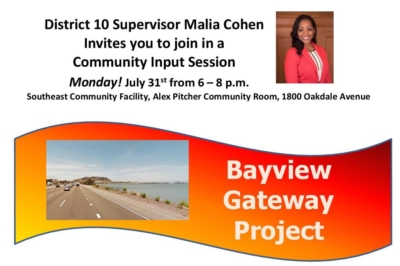 Press Release (ePRNews.com) - SAN FRANCISCO - Jul 28, 2017 - Posted Courtesy of Wright Enterprises~~~
Monday, July 30, District 10 Supervisor Malia Cohen will host a Community Input Session to discuss The Bayview Gateway project. It will be held at the Alex Pitcher Room, 1800 Oakdale Avenue from 6:00 p.m.-8:00 p.m. The session will allow the community to give input and gain information about the project that will beautify gateways to the Bayview Neighborhood.
"We are pleased to remind people about this great opportunity with Supervisor Cohen that will give everyone a chance to have input, " said Marsha Maloof, President of the Bayview Hill Neighborhood Association. "Members of our association along with other members of the community are spearheading the project with support from the San Francisco Public Works Department."
The Bayview Gateway project with design services by the renowned design, architecture, engineering and planning firm, HOK, will get underway with the identification of strategic locations and significant design elements that will unify the appearances to the entrances to the Bayview neighborhood.
"As Supervisor, I'm delighted to host this Bayview community meeting to discuss the project and gather input," said San Francisco District 10 Supervisor, Malia Cohen. "As a resident, we are asking for your thoughts and suggestions on the project and design elements identified, so far."
The agenda for the meeting will include: the overall concept; summary of community input to date; design elements for a "kit of parts;" potential sites; partnership and stewardship opportunities; timeline and next steps.
For more information about the specifics of the meeting, contact Brittni Chicuata, brittni.chicuata@sfgov.org, 415 554-7670.
"We encourage everyone to come early and be prepared for a productive discourse to improve our vibrant neighborhood," added Maloof. For information about the Bayview Hill Neighborhood Association, visit https://www.bayviewhillsf.org/.
Source :
Bayview Hill Neighborhood Assn.