Universal B-Boy League Announces Freestyle Session Canada: Rock Harder II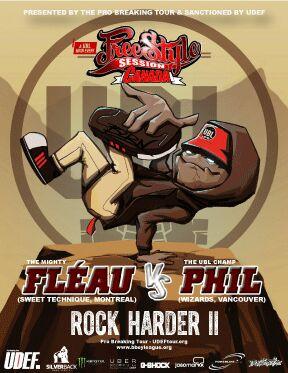 Press Release (ePRNews.com) - TORONTO - Apr 05, 2016 - The Universal B-Boy League (UBL) announces Freestyle Session Canada Main Event: Rock Harder II at Hard Rock Cafe on April 9, 2016. This event is presented by the Pro Breaking Tour, a globally renowned tour of Breakdance events held throughout North America, South America and Europe. As Canada's only stop on the UDEF Pro Breaking Tour, the UBL is very proud to be the host of the first ever, Freestyle Session Canada. B-boys and B-girls from all across Canada and the US will travel to Toronto to participate in a 3 on 3 breaking competition that will send the winners to the Freestyle Session World Finals in Los Angles on November 12-13, 2016. Situated in the epicenter of the Greater Toronto Area at Yonge & Dundas Square, the Hard Rock Café makes for the perfect location to host Canada's premier Hip Hop dance event, that not only will impact street dance communities across Canada, but will also be closely followed by enthusiasts from around the world.
The doors will open at 2pm with music, pop up shop vendors, and open cypher dancing. Competitors and Hip Hop enthusiasts will be treated with an impressive display of creativity, movement and battle style competition. DJ Andy B Bad delivers live music that dancers must adapt to and that could change at any moment.
As the event progresses, the energy and excitement of competition will carry through to 6pm which will feature the qualifier Top 16 crews of 3 on 3 tournament as they battle in a tournament bracket format to determine the winners heading to the Freestyle Session World Finals in November. The night will also feature special guest performances, and a highly anticipated exhibition battle between two of Canada's top B-boys; world renowned, Bboy Fléau (Montreal) versus the current UBL Champ, Bboy Phil (Vancouver).
About UBL
The Universal B-Boy League (UBL) is Canada's only competitive platform for breakers. We represent the Canadian Breaking community as a leading association dedicated to the development of Hip Hop Professionals, on and off the dance floor.
The UBL is geared towards supporting the development of creatives through dance and competitive Hip Hop culture. Members train and compete across the GTA, Canada, North America and the World, to develop skills, learn from others, and compete in world class events. The UBL produces world class events that brings breaking into the spotlight, as a well established art form of dance and entertainment.
Event Info
Freestyle Session Canada: Rock Harder II
April 9, 2016
Hard Rock Cafe – 279 Yonge Street, 2nd Floor, Toronto, ON M5B 1N8
Doors Open: 2pm
$20 General Admission (Online/Door)
http://www.bboyleague.org/product/freestyle-session-canad…
Tickets also available at The Toronto Collective – 166A Spadina Ave, Toronto, ON
Source :
Universal B-Boy League (UBL)

Business Info :
Universal B-Boy League
Toronto, Ontario Canada
Phone: 6479997439
Website:
http://bboyleague.org