FiDonce Pro-Am set to re-energize Philadelphia's Basketball Circuit
FiDonce Pro-Am Is Coming to Philadelphia, the City of Brotherly Love, this Summer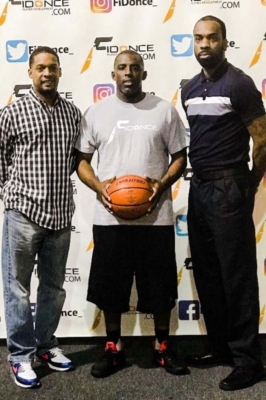 Press Release (ePRNews.com) - PHILADELPHIA - Mar 11, 2018 - FiDonce Pro-Am will bring back another level of basketball competition to Philadelphia, this Summer 2018.
FiDonce Pro-Am headed up by Eric "Pooh" Evans, is bringing back to Philadelphia, the rich tradition of competitive basketball the city was once so well-known for producing. If you recognize the name Evans, it's because Eric is the older brother of NBA star basketballer, Tyreke Evans, currently with the Memphis Grizzlies. Eric himself was an All American in Junior & Senior years of college, & went on to play pro ball overseas. On coming back from overseas, Eric was integral to the development of his younger brother, Tyreke. Currently Evans has under his wing, top 3 High School Prospect (Westown High), Cameron Reddish.
Since the demise of formerly respected, renowned leagues such as the Drexel Pro-Am (2012) & The Baker League (2004), there has been a drought of pro level basketball. FiDonce Pro-Am is looking to be the Summer League pro players come home to play in.
FiDonce Pro-Am will align itself with charitable organizations & look to give back to surrounding communities, mentor children, contribute to fundraising & provide food & resources for the homeless.
The FiDonce Pro-Am will have 16 teams comprising of NBA, College, Overseas & Semi-Pro Players. All teams will play 10 games. Currently 8 of 16 team slots have been filled with only 8 spots remaining. Word is that 2 NBA players will bring in teams to this Summer League. All teams/players will be screened to ensure a high level of competition.
Evans as CEO of FiDonce Pro-Am, has brought in a strong team to ensure a successful launch: Fahreed Cheatham as Commissioner, Elisa O'Keefe-Smith as VP, and Saleem Brown as Director.
Cheatham is CEO/Commissioner of The Alumni League, a well-known basketball baota player on the Philadelphia Circuit, having played at Strawberry Mansion High, then at Cheyney University. He went on to play Semi-Pro for the Philadelphia Destroyers in the American Professional Basketball League (APBL), winning multiple championships & won MVP for the league 2013/2014. Cheatham was voted by sportswriters into the Top 25 Players outside of the NBA. Cheatham is a Dean of Students at Rhodes Elementary School, and holds a B.S. and M.Ed.
O'Keefe-Smith, is VP of The Alumni League, having worked alongside Cheatham since the league's inception. A creator/producer/host with her own award winning Web TV Talk & Radio Shows, she holds a B.A, an M.B.A. & is a current doctoral candidate.
Brown, is Assistant Coach at Cabrini University & Assistant Director in the Admissions Office. Brown hails from Chester, and played for Cardinal O'Hara High School. He went on to play College, first at Delaware County Community College, then at Cabrini College, where he now coaches.
Looking forward to watching a successful first Summer Season of The FiDonce Pro-Am.
ABOUT THE "FIDONCE PRO-AM"
FiDonce (fee-donce) meaning confidence
The FiDonce Pro-Am was created with a vision to bring back the rich tradition of elite basketball competition for NBA, Pro and College players to compete together over the Summer months.
LOCATION
FiDonce Multi-Sport Facility
3640 G St, Philadelphia, PA 19134
WEBSITE & SOCIAL MEDIA LINKS
FaceBook: http://Facebook.com/groups/fidonceproam
Instagram/Twitter: @fidonceproam
Website: www.fidonce.com
Contact Information:
Eric "Pooh" Evans (CEO)
215-309-3905
fidonceproam@gmail.com
Fahreed Cheatham (Commissioner)
215-847-7717
fahreed@thealumnileague.com
Source :
FiDonce Pro-Am