"Greenleaf" Actor Jason Dirden to Participate in National Cyberbullying Awareness Campaign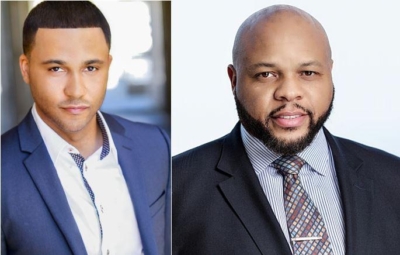 Press Release (ePRNews.com) - WASHINGTON - Mar 10, 2017 - Rising television and Broadway star Jason Dirden will serve as the special guest for a special reception kicking off SafeCyber's iC.A.R.E. cyberbullying awareness campaign at SEI restaurant, 444 7th St NW in Washington, D.C. on March 21.
"Cyber bullying is real…but the more understanding we have about it, the more we can protect those who are victims of it," said Dirden.
Created by SafeCyber founder Reginald Corbitt, the iC.A.R.E. campaign will tackle all forms of Cyberbullying that takes place through electronic technology, such as cell phones, computers, and tablets as well as communication platforms like social media sites, text messages, chat, and websites.
"Examples of cyberbullying include mean text messages or emails, rumors sent by email or posted on social networking sites, and embarrassing pictures, videos, websites, or fake profiles," said Corbitt. "Kids who are cyberbullied have a harder time getting away from the behavior. They are more likely to use alcohol and drugs, skip school, experience in-person bullying, receive poor grades, have lower self-esteem and have more health problems."
Corbitt added that he is pleased that Dirden has decided to play an integral role in raising national awareness about the need to address cyberbullying.
Dirden has a recurring role on the OWN network's drama series "Greenleaf," executive produced by Oprah Winfrey. Set against the backdrop of a sprawling Memphis megachurch, the journey of estranged daughter and disillusioned preacher Grace Greenleaf (Merle Dandridge), who has returned home after 20 years after the mysterious death of her sister, Faith. As she re-enters the world of Calvary Fellowship World Ministries, the Memphis megachurch run by her powerful parents Bishop James Greenleaf (Keith David) and Lady Mae Greenleaf (Lynn Whitfield), it becomes evident that things are not as virtuous as they seem and that the family's outward display of faith hides sin and misdeeds.
Dirden reprised his role of Basie Skanks, Pastor of Greenleaf's rival church Triumph, who continues to be a thorn in Bishop's side. Dominic will play Martin Jabari Johnson, a handsome record producer and Charity's (Deborah Joy Winans) preferred choice to produce her new album. Fegan will recur as Isaiah Hambrick, a rising young Christian pop star who shakes up Sophia (Desiree Ross) and Zora's (Lovie Simone) world.
iC.A.R.E Campaign Kick Off Details:
When: March 21
Time: 6pm to 8pm
Where: SEI Restaurant – 444 7th NW, Washington, DC 20004
Food/Drink: Butlered hors d'oeuvres and cash bar
RSVP: Invitation Only
Members of the press interested in attending should contact Taroue Brooks at Taroue.brooks@yahoo.com or 202-431-1119.
About Reginald Corbitt/SafeCyber:
Reginald Corbitt is the founder of SafeCyber, whose mission is to educate and promote cyber awareness to schools, community organizations, parents and care takers of youth. The organization provides actionable information that's easy to understand along with tools and resources needed to stay safe and secure while living in the "Internet of Things" age. He travels state to state raising awareness about cyber safety topics such as Cyberbullying, Dangers of Social Media Apps, Online Predators of Children, and Digital Footprint and Reputation. He is the author of the soon to be released book, "Protecting our Children in the Digital Age," where he discusses how parents can protect their children by sharing his own experience with his teenage daughter. He also focuses on how technology can influence the behavior of youth and put their safety at risk while being constantly hyper-connected. SafeCyber is a proud partner of STOP. THINK. CONNECT., the global cyber security education and awareness campaign led by the National Cyber Security Alliance and in partnership with the Department of Homeland Security.
About Jason Dirden:
Born and raised in Houston, Dirden has been involved with the arts community his entire life. Even though he attended many plays featuring his father (Willie Dirden) and older brother (Brandon J. Dirden), his love for acting and story-telling didn't emerge until he joined a theater group in high school. Dirden earned a bachelor of arts degree in Theater from Morehouse College and an Masters in Fine Arts degree in Acting from the University of Illinois at Urbana-Champaign, where he studied under Tony Award director Daniel Sullivan.
Dirden continued to pursue his passion for the craft when he moved to New York City. Through hard work, dedication, a little bit of luck, he found himself working side-by-side with many of the artists he admired: Tony Award winners Kenny Leon, Ruben Santiago-Hudson, Glynn Turman and Sophie Okonedo to name a few. He appeared on Broadway in both revivals of Tony-award winners "Fences" and "A Raisin in The Sun," opposite Denzel Washington. Most recently, he starred as Levee in the west coast revival of August Wilson's "Ma Rainey's Black Bottom," directed by Phylicia Rashad, at the Mark Taper Theater in Los Angeles.
Dirden's growing television credits include TBS television's "Tyler Perry's House of Payne," and the CBS crime drama "Elementary." He currently stars in the OWN Network #1 new drama "Greenleaf." Dirden is represented by Talent House (LA) and Shelter Entertainment Management.
Source :
SafeCyber