Men's Basketball Hoopscoop Offers Spread Offense Playbook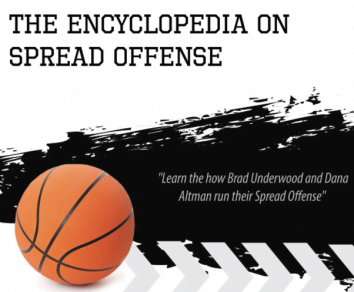 Press Release (ePRNews.com) - EDMOND, Okla. - Mar 20, 2017 - Men's Basketball Hoopscoop, the premier site for basketball coaches everywhere, is now offering the Encyclopedia on Spread Offense Playbook by Chris Filios with plays from Brad Underwood, the new coach of Illinois State University, and Dana Altman from the University of Oregon.
Spread offense is ideal for teams with interchangeable pieces that thrive in all positions and big guys who are skilled at driving, passing, and shooting the ball. By spreading the defense and pulling opponents and big men away from the rim, the defense will have to guard the perimeters, so your offense can take advantage of the mismatches.
The Spread Offense Playbook features 90 pages of offensive plays and ideas from Division I NCAA Basketball coaches: Brad Underwood and Dana Altman. Underwood recently took a head coaching job at Illinois State University, leaving Oklahoma State University, and Dana Altman is the coach of The University of Oregon's men's basketball team.
"Many coaches have been looking for a more versatile offense," said Scott Peterman, founder of Men's Basketball Hoopscoop. "In college basketball, there are no better coaches at the spread offense than Underwood and Altman. The spread offense creates matchup nightmares for opponents and gives teams a chance who have no real low post threat."
Underwood spent three years as Stephen F. Austin's head coach, earning the rights to one of the best starts to a head-coaching career in college basketball history. After three seasons, his overall record was 89-14 with an astounding 53-1 record in conference play. Additionally, he won three consecutive Southland Conference Coach of the Year titles. As a coach for Oklahoma State Cowboys, their Adjusted Offense is ranked 2nd in the country at 125.3 points per 100 possessions. After just one year with OSU, Underwood accepted the head coaching position at Illinois State University in March 2016.
Altman's Oregon Ducks were ranked in the Top 10 and were the Pac-12 Tournament Runner-Up this year. Altman is included in an elite list of coaches that have 19 consecutive winning seasons including Tom Izzo, Roy Williams, Bill Self, Jim Boeheim, and Mike Krzyzewski. Altman won more games in six seasons at Oregon than any other coach in the program's history and has a 154-64 record there. Overall, in his tenure as a coach for Oregon, Kansas State, Creighton, and Marshall, he boasts a 564-307 record and has led teams to the Elite Eight and Sweet Sixteen.
Men's Basketball Hoopscoop is the Internet's go-to website for all things basketball coaching. They carry a large inventory of playbooks, drills, and clinic notes from College and NBA coaches and teams, for up-and-coming basketball coaches around the nation.
For more information about The Encyclopedia on Spread Offense Playbook from Men's Basketball Hoopscoop or to purchase, visit https://www.mensbasketballhoopscoop.com/shop/spread-offen…
About Men's Basketball Hoopscoop
Men's Basketball Hoopscoop provides the coaching community with expert insights and reviews of professional and college basketball plays, as well as tips from the coaching pros. We provide free coaching plays, tips, and resources as well as playbooks and DVDs. We take the hassle out of attending clinics, choosing valuable drills, and creating plays.
Media Contact(s):
Scott Peterman, mensbasketballhoopscoop@gmail.com, 405-606-9791
Source :
Men's Basketball Hoopscoop