RII Sports Technology Helping Football Coaches More Effectively Exploit Their Biggest Competitive Advantage – Data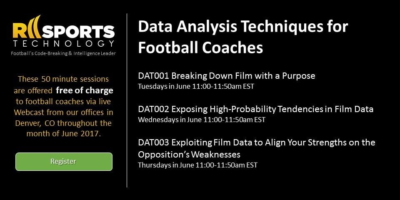 Press Release (ePRNews.com) - PARKER, Colo. - Jun 04, 2017 - RII Sports Technology will be conducting a training series called "Data Analysis Techniques for Football Coaches" during the month of June 2017. The series is designed to help football coaches more effectively leverage the data they collect when breaking down game film each week as they scout opposing teams.
RII Sports Technology is football's Code-Breaking & Intelligence leader – providing coaches with tools that unlock the full power of film data.
"A team's film data has the potential to be its single greatest competitive advantage – but only if the coaching staff knows how to get the most out of it." says Tom Woods, RII Sports Technology's founder. "As we've worked with football teams over the past few seasons we've seen a need to help coaches better understand a few simple principles of structuring and working with data. Principles that if they understand and implement, will allow them to unlock the full potential of their film data."
In addition to his work with RII Sports Technology, Woods is the President of its parent company, TTJ&B Inc., which for more than 15 years has provided data and analytical solutions to the Aerospace & Defense industry for organizations like NASA, the US Air Force, the US Missile Defense Agency, Lockheed Martin, and Boeing.
These free, 50 minute sessions are conducted via live webcast from RII Sports Technology's Colorado offices and are limited to 10 coaches per session. Football coaches can register for sessions being offered in the month of June 2017 at http://www.r2sportstech.com/datfc.html.
A variety of topics are covered, everything from showing coaches how to use their data to optimize their play calling, to methods for uncovering hundreds of hidden high-probability tendencies contained in their film data. Sessions include:
DAT001 Breaking Down Film with a Purpose
DAT002 Exposing High-Probability Tendencies in Film Data
DAT003 Exploiting Film Data to Align Your Strengths on the Opposition's Weaknesses
For more information on these free sessions visit www.r2sportstech.com/datfc.html. Participants must be active members of a football coaching staff at either the High School, Collegiate or Professional level.
Source :
RII Sports Technology

Business Info :
RII Sports Technology
Parker, Colorado - 80138 United States
Phone: 303841415